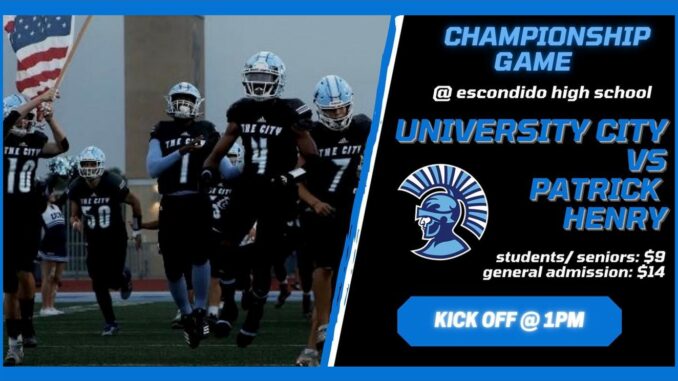 Courtesy of the University City High School PTSA, it's News and Updates:
CIF Championship Final on Football Friday, 11/26 @ 1 pm – Escondido HS. Our UCHS Centurions Football Team defeated the Coronado High School Islanders in the Semifinal Division IV CIF game last week on Friday. With the win, they will take on the Patrick Henry High Patriots in the CIF Finals at Escondido High School this Friday, November 26, at 1 pm, marking the first time in UCHS history that our football program has played in the CIF Championship. All CIF Championship game tickets must be purchased through GOFAN at https://gofan.co/app/events/468358?schoolId=CIFSD. Tickets will not be available at the gate, and students cannot use ASB cards for entry. Ticket prices are $15 for General Admission and $9 for Seniors/Students. Let's go, Centurions…Win the Day!
Our UC Girls' Cross Country Team finished in the top four at the CIF Finals last week, qualifying them for the State CIF Championship on Saturday, November 27, in Fresno. Our top boys' finisher, Gael McClain-Martinez, will also compete as an individual. Congratulations, Cents, and best of luck as you compete on the famous Woodward Park State Course next weekend!
Our UCHS Field Hockey Team edged the Otay Ranch HS Mustangs this past Tuesday, which moved them into the CIF Semifinals game against the Mt. Carmel HS Sun Devils on Thursday night. While Mt. Carmel left victorious with a 2-1 win, it was a fantastic game that went into double overtime. We're proud of you, Cents. Congratulations on a very successful season.
Our own UCHS Centurion Sound Marching Band and Color Guard won 2nd place at the 3A Field Championships at Ramona HS (Riverside). They placed 2nd out of 27 band programs from all across Southern California! Way to go, Cents! Click Here https://drive.google.com/file/d/1H6sHw02ZUUe_sAYTDqBK4NoX1xk0H_o-/view to see their performance (iPhone XR quality!)
For more PTSA news, visit https://www.uchsptsa.org/