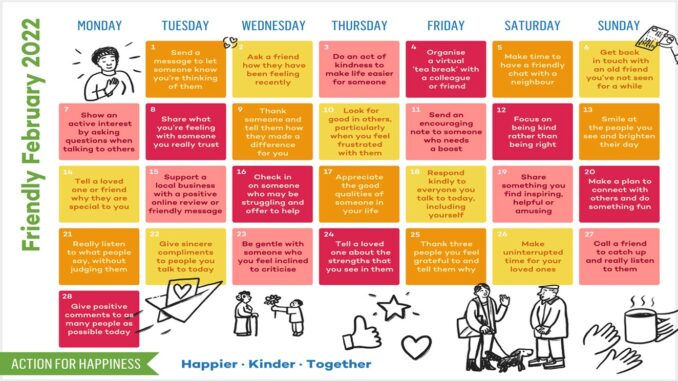 2022 Update: Action for Happiness has updated its website and program offerings. For the most-up-to-date information and calendar, please visit https://actionforhappiness.org/
---
From Action for Happiness: Let's take action to look after ourselves and each other as we face this global crisis. We may be physically apart, but we can still be together. Action for Happiness helps people take action for a happier and kinder world. 
This month's theme: Friendly February. We need each other more than ever right now! This month let's focus on reaching out to connect with others and doing our best to be a good friend. Our acts of kindness and connection ripple out and impact so many more people than we realize – and they also boost our own happy hormones too! In stressful times people around us may be feeling the strain, so let's try to keep calm, take time to listen and show compassion. Visit https://www.actionforhappiness.org/calendar to find more information and other language versions too.
February 2022: Daily actions to help you connect with others and spread kindness.
February 1 Tuesday: Send a message to let someone know you're thinking of them
February 2 Wednesday: Ask a friend how they have been feeling recently
February 3 Thursday: Do an act of kindness to make life easier for someone
February 4 Friday: Organise a virtual 'tea break' with a colleague or friend
February 5 Saturday: Make time to have a friendly chat with a neighbor
February 6 Sunday: Get back in touch with an old friend you've not seen for a while
February 7 Monday: Show an active interest by asking questions when talking to others
February 8 Tuesday: Share what you're feeling with someone you really trust
February 9 Wednesday: Thank someone and tell them how they made a difference for you
February 10 Thursday: Look for good in others, particularly when you feel frustrated with them
February 11 Friday: Send an encouraging note to someone who needs a boost
February 12 Saturday: Focus on being kind rather than being right
February 13 Sunday, Smile at the people you see and brighten their day
February 14 Monday: Tell a loved one or friend why they are special to you
February 15 Tuesday: Support a local business with a positive online review or friendly message
February 16 Wednesday: Check in on someone who may be struggling and offer to help
February 17 Thursday: Appreciate the good qualities of someone in your life
February 18 Friday: Respond kindly to everyone you talk to today, including yourself
February 19 Saturday: Share something you find inspiring, helpful or amusing
February 20 Sunday: Make a plan to connect with others and do something fun
February 21 Monday: Really listen to what people say, without judging them
February 22 Tuesday: Give sincere compliments to people you talk to today
February 23 Wednesday: Be gentle with someone who you feel inclined to criticize
February 24 Thursday: Tell a loved one about the strengths that you see in them
February 25 Friday: Thank three people you feel grateful to and tell them why
February 26 Saturday: Make uninterrupted time for your loved ones
February 27 Sunday: Call a friend to catch up and really listen to them
February 28 Monday: Give positive comments to as many people as possible today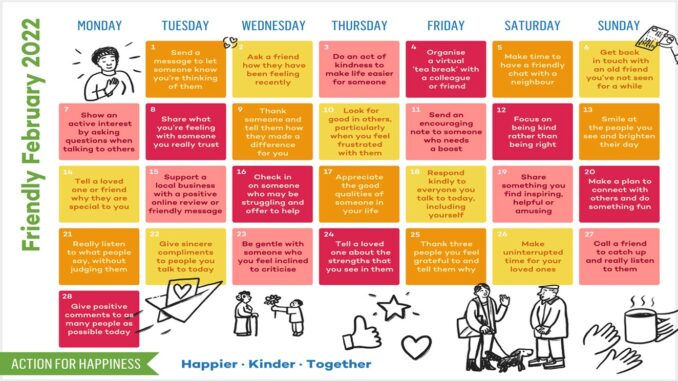 ---
Contributed by Diane Ahern. She had been contemplating her New Year's Resolutions and was searching for a monthly Kindness Calendar. She stumbled upon a series of monthly calendars from Action for Happiness, a movement of people committed to building a happier and more caring society. Diane is providing this calendar as information to those in our University City community who may want to spread more happiness. UCCA neither supports nor endorses the Action for Happiness organization or movement … but likes the idea of spreading happiness and kindness throughout University City. For more information about UCCA, visit https://www.universitycitynews.org/ucca-about-us/
For related posts from UCCA, visit https://www.universitycitynews.org/category/community-health/