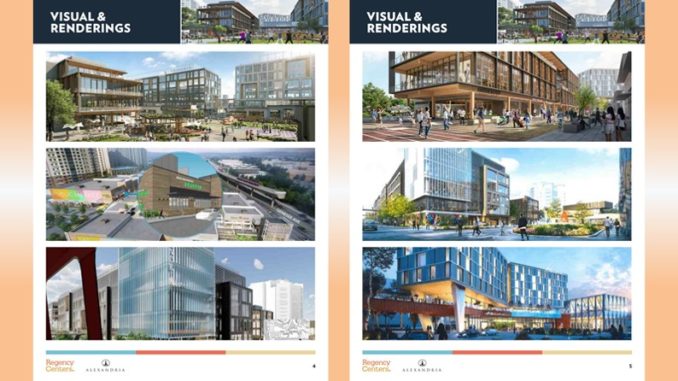 Update March 2023: In the March 2023 print University City News newsletter, UCPG Chair Chris Nielsen reported: For those interested in Costa Verde's redevelopment, Randy Levinson from Alexandria Real Estate (ARE), the property's owner, gave the following development update: Many months ago, ARE submitted a Substantial Conformance Review to the city that allows for modification of the project entitlements; this process is slowly making its way through the city with approval expected in a few months. A demo permit is a couple of months away as well. ARE needs to wait for a "co-process" with SDG&E so that utility disconnects prior to demoing are done safely. Assuming the schedule for permits holds, demo involving all vertical walls should start in the summer and take about 4-6 months with the site much safer without obscured views. The decision to proceed with construction will be made in an "economy- dependent" way.
As soon as there's something to report, UCCA will update  this post. It sounds like ARE is not expecting anything to happen at the property site until the summer at the earliest.
---
Update March 2022: At both the UCPG and UCCA community meetings in March 2022, the UCPG planning group chair announced that Alexandria Real Estate (the property owner and developer) intends to build out the property within the scope of the existing permits with a hotel, life-science office space, and retail. All existing tenants were expected to vacate the property by March 15. There is no decision yet on the retail mix of stores; that is yet to be determined. There will be some kind of grocery market but it will not be a large chain. It's expected to be a smaller grocery neighborhood market that caters to pedestrians rather than to automobiles. The small area with McDonald's and the gas station will remain as is.
---
January 2022: As announced in January 2022, Regency Centers sold its Costa Verde property to Alexandria Real Estate (ARE). Details provided by SDUT at  https://www.sandiegouniontribune.com/business/growth-development/story/2022-01-14/life-science-developer-buys-costa-verde-strip-mall-near-utc