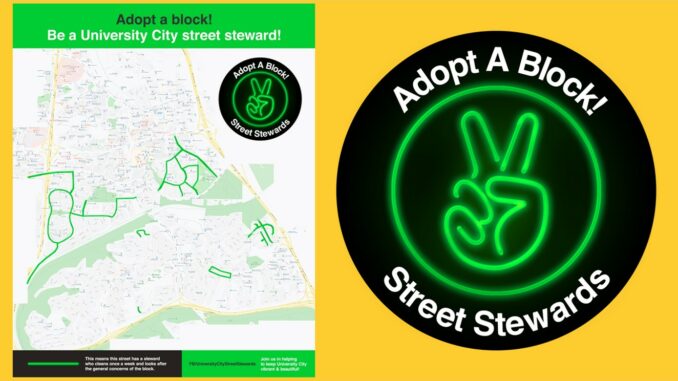 Block by block, Street Stewards strive to keep a portion of our University City neighborhood clean and litter free. The role of a Street Steward is to adopt a block or two in the neighborhood. When you walk around that block, pick up any trash you see in the street and sidewalk. It doesn't take a lot of extra time or effort to make your block shine. The Street Stewards hope that by connecting a patchwork of people who take extra care, entire communities will be enriched with a sense of pride and respect. This is also a great way to meet your neighbors, walk your pets, spend time with kids and loved ones, and exercise.
For more information and to Adopt a Blook, visit streetstewards.com or facebook.com/UniversityCityStreetStewards
Stay Safe out there!
Always walk against traffic on the left side of the road, so oncoming traffic remains within your vision.
Wear a bright colored article of clothing, shirt or hat.
An orange Home Depot bucket can also be a great safety tool.
Do not put yourself at risk. Exercise caution and protect yourself when picking up litter. Some items may be hazardous.
Carefully look in both directions if reaching for litter on the road.
Wear appropriate shoes, gloves, and clothing, to the environment you are working.
Never reach into grass, shrubs, or any hidden area considering rattlesnakes are native to our area. Be especially cautious in warmer weather.
Best to use a litter picker and we recommend the virtually indestructible Vive brand 32 inch reach with metal bands and suctions cups, which can be purchased on Amazon. Costco is currently selling the Bird Rock brand which is a lower cost option.
Carry water if it is a warmer day to stay hydrated.
Apply sunblock and wear a hat on sunny days.
Practice appropriate COVID safety rules and adhere to local and state COVID restrictions.
For more information and to Adopt a Blook, visit streetstewards.com or facebook.com/UniversityCityStreetStewards