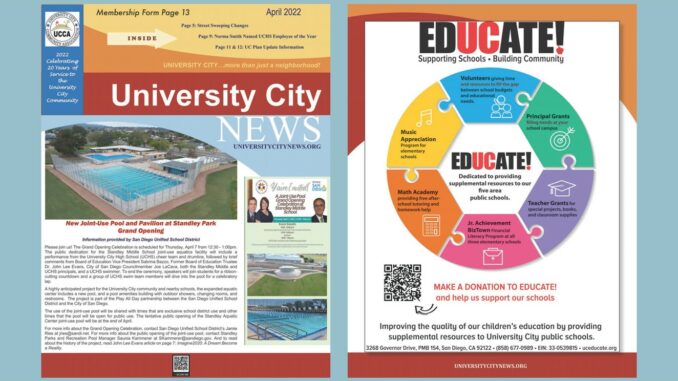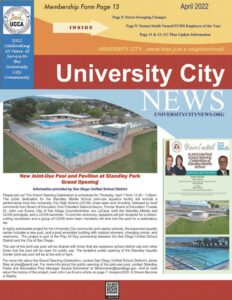 Hello University City, the April 2022 newsletter (PDF version) is now online and available to read, print, and share it with family and friends.
This month we have devoted the center pages 10 and 11 to news and updates from both the UCPG Planning Group and the University Community Plan Update (CPU) sub-committee. 
This month's cover story features the opening day festivities of of the Standley joint-use Aquatic Center at Standley Park. The back cover advertiser is EdUCate! the University City Foundation for Public Schools.
Print delivery will begin on Saturday/Sunday, the first weekend of April. Print copies will be available for pickup at University City libraries and recreation centers beginning Saturday afternoon, April 2. 
Thanks to all our community contributors and to our advertisers and to our delivery volunteers … you are the neighbors and friends who make the print newsletter possible. Let's support our local businesses. UCCA urges all members to refer to the advertising section our of print newsletter for current promotions from our local advertisers. The print newsletter is available as a PDF at https://www.universitycitynews.org/ucca-newsletter-archives/
For News and Event updates, visit https://www.universitycitynews.org/category/events/
---
From UCCA president Diane Ahern: Hello University City, it's April, and time to celebrate Earth Day with this year's theme "Invest in our Planet". You can help by participating in a community cleanup. Whether it's a big group event or a solo cleanup, you can invest in our planet by removing pieces of trash from neighborhoods, beaches, rivers, lakes, trails, and parks thereby reducing waste and plastic pollution, improving habitats, and preventing harm to wildlife and humans. You'll find several suggestions in this issue of our April University City News.
April also brings Spring events at our local recreation centers, baseball and softball games at our parks, community events at our local libraries, and the long-awaited Grand Opening Ceremony of the joint-use Standley Aquatic Center at Standley Park on April 7.
Congrats to the Fire Safe Council which hosted a successful Smoke Detector give-away in March. Summer plans are under-way for the return of the UC Celebration on the 4th of July and the Summer Concerts at Standley Park.
Top-of-mind for many University City residents is the Community Plan Update. I think it's safe to say we were all surprised by the City Planning Department's option for multi-family residential housing along Governor Drive. More about the Community Plan Update is in the center section of this newsletter and at https://www.planuniversity.org/meetings
UCCA will host our community meeting on Wednesday, April 13, via Zoom, at which our featured guests will be Councilmember Joe LaCava and Commanding Officer Colonel Bedell from MCAS Miramar. Join Zoom ID: https://us02web.zoom.us/j/85615463361
Later in the month, UCCA will partner with the League of Women Voters to provide a City Council D6 candidate forum on April 24 in preparation for the June 7 primary election. Register at https://us02web.zoom.us/webinar/register/WN_fw5zSb60Q5O0yEAFazxlgg
On a public safety note, I was fortunate to attend the March police department Northern Division advisory board meeting hosted by Captain Scott Wahl. He mentioned that our area has experienced a high number of serious injury traffic and motor vehicle accidents and that the SDPD Traffic Division will be stepping up enforcement in our area. Slow down out there and watch out for cyclists, pedestrians, and other vehicles.
Captain Wahl also mentioned that those who want to help homeless individuals or those in encampments can contact the Homeless Outreach / Encampment team through the Get-it-Done app or online at sandiego.gov/get-it-done
It looks like most meetings in April will be by Zoom. So let's exchange greetings in the chat as we meet online for the UCPG Planning Group meeting on April 12, at UCCA's meeting on April 13, at the CPU Community Plan Update meeting on April 19, and at the League of Women's City Council candidate forum on April 26. And, of course, I hope to see you outdoors at the Grand Opening Ceremony for the Standley Aquatic Center on April 7.
The April issue of University City News is full of local news and information that you won't find anywhere else. UCCA thanks the many community contributors, advertisers, UCCA members, and volunteers who make our print newsletter possible. If you haven't renewed your UCCA membership for 2022, you'll find the membership coupon in this issue.
Have a great month; thanks to all who help to make University City more than just a neighborhood.
---
University City meets on Wednesday, April 13, 6 to 8 PM: UCCA will host our community meeting on Wednesday, April 13, via Zoom, at which our featured guests will be Councilmember Joe LaCava and Commanding Officer Colonel Bedell from MCAS Miramar. Join Zoom ID: https://us02web.zoom.us/j/85615463361