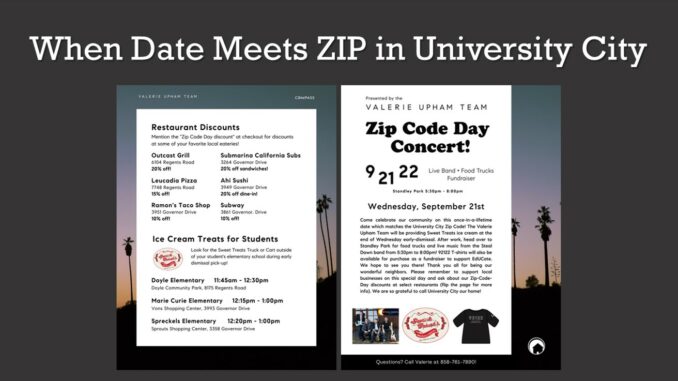 Please note: The 92122 University City post office, 3298 Governor Drive, will celebrate Date Meets Zip on 9/21/22 from 8:30 AM to 5 PM. Information at https://www.universitycitynews.org/2022/09/13/university-city-celebrates-on-wed-sep-21-when-the-date-meets-the-zip-in-university-city/
---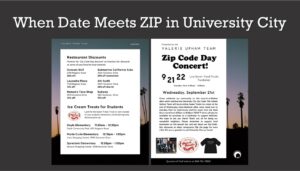 Courtesy of Valerie Upham: A date to remember in University City – September 21, 2022, when the Date Meets our ZIP Code. Come celebrate our community on this once-in-a lifetime date which matches the University City Zip Code.
The Valerie Upham Team will be providing after school treats for students at the end of Wednesday early dismissal.
Support local businesses on this special day; some of our local restaurants are providing special discount offers to patrons.
After work, head over to Standley Park for live music from the Steal Dawn band starting at 5:30. 92122 T-shirts will also be available for purchase as a fundraiser to support EdUCate! We hope to see you there.
Thank you all for being our wonderful neighbors. We are so grateful to call University City our home. For more information, contact Valerie Upham at 858-761-7890 or email valerie.upham@compass.com.
See also events at the University City 92122 Post Office on Governor Drive on September 21, 2022:
When the Date Meets the ZIP in University City: it's happening at the 92122 Post Office on Wed Sep 21, 2022