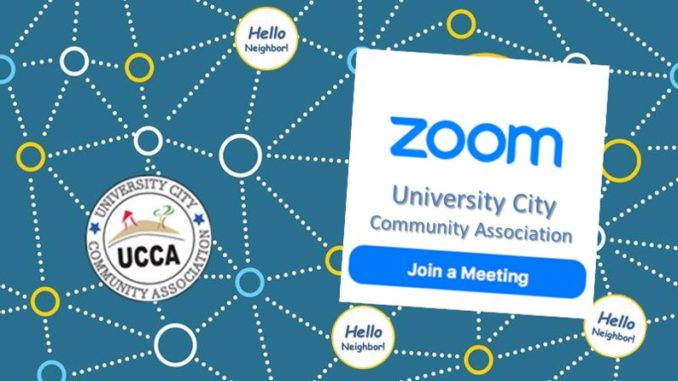 Update 09/15/2022: The Zoom Cloud recording of  UCCA's September 14 Community Meeting held on Sep 14, 2022 will be available for 30 days:
Recording: https://us02web.zoom.us/rec/share/nS8Yxhg1b82PYP8Pal1OpRhyHXlOHyCGS0iwGKG0a-6hjKWRpckaREfn-IGFPXiI.TR3uHO1VV75jSlM2
Passcode: t3m2$?Ys
---
University City Community Association (UCCA) will meet on Wednesday, September 14 at 6 PM via Zoom. This meeting will be recorded. UCCA's focus this month is community updates including a presentation at 6:15 PM about the Pure Water Pipelines and Tunnels construction in University City and a presentation at 6:30 PM about Organic Waste Recycling; public safety, planning group reform, community plan update timeline, EdUCate!, Spreckels Elementary, the Garden Club, and the Rotary Club.
In addition, we will have updates from community and legislative representatives including city council, county, state and federal representatives. UCCA meetings also provide a public forum, announcements, and UCCA committee reports. This is a public meeting and all are invited.
Why does UCCA host public meetings?  It's part of UCCA's mission … to provide a forum (including public meetings, print newsletter, website, social media, community outreach, event support, etc) where the interests of residents may be expressed and contributions made to the protection of life and property in the community.
If you have an agenda item to share or wish to speak during Open Forum, please contact us at UniversityCityNews@gmail.com.
The tentative agenda for the September 14, 2022, 6 PM Zoom meeting:
6:01 PM Welcome – Diane Ahern
6:02 PM Call to order – President's Remarks
At last night's UCPG planning group meeting: UCCA is grateful to the UCPG planning group for their support of UCCA's effort to expand its Banner District to include Nobel Drive north of Rose Canyon. This expansion will physically and visually unite University City. Our next step is review by City Council later this month; now scheduled for September 20.
Next week will be busy in University City:
6:08 PM Approve September Agenda – Vote
Approve July Minutes – Vote
6:10 PM – Information Item: Pure Water Pipelines and Tunnels – University City and Eastgate Mall. This project begins on Genesee Avenue between Appleton Street and state Route 52 and continues on Genesee Avenue, Nobel Drive, Towne Centre Drive and Executive Drive in University City. Presenter: Sarah Bowles, Community Outreach Specialist, Public Utilities Department. https://www.sandiego.gov/public-utilities/sustainability/pure-water-sd/phase-1-projects/university-city-eastgate-mall Presentation: Pure Water UCCA Presentation – Draft Final – 9-14-22 UCCA
6:25 PM – Information Item: New Organic Waste Recycling Collection. SB 1383 requires the reduction of organic waste disposed of in landfills including food scraps and food-soiled paper from kitchens and food operations and yard waste such as garden and landscape waste, organic textiles and carpets and wood waste. Presenter: Meagan Browning, Recycling Specialist, Environmental Services Department. https://www.sandiego.gov/environmental-services/recycling/sb1383 Presentation: Organic Waste and SD 1383 UCCA SB 1383 Presentation 9.14.22 UCCA
6:40 PM Public Safety
Police Department – Officer Anderson Brown
6:50 PM Legislative representatives – 3 minutes with Q&A
• Mayor Gloria – Matthew Griffith
• CM Joe LaCava – Krissy Chan
• US Representative Scott Peters – Rachel Dugan
• CA Senator Toni Atkins – Cole Reed
• CA Assemblymember Chris Ward – Ansermio Estrada
• County BOS – Terra Lawson-Remer – Spencer Katz
•
7 PM Community Leaders / Open Forum – 3 minutes with Q&A
7:15 PM Roll Call of UCCA Voting Members – Jim Beshears
UCCA Board Member and Committee Reports – 3 minute announcements and/or discussion
• Treasurer's Report – Jemma Samala – vote
• Membership Report – Meet Julie Nydam – Diane Ahern
• August Special Meeting and Proposal for Street Banner District Expansion to include Nobel Drive – Diane Ahern; Presentation: UCPG – Proposal to Expand UCCA's Street Banner District
• Committee Reports
• Volunteer Recognition – Bill Beck
• Winter Holiday event at Standley Park – Barry Bernstein
• October meeting format – President's absence in October – Diane Ahern
• Other
7:30 PM • UCCA – Old Business / New Business
7:35 PM • Adjourn – Next meeting Wednesday, October 12, 2022, 6 PM.
Zoom Info for September 14, 2022; waiting room opens at 5:55 PM; Meeting begins at 6:00 PM. Please mute your audio.