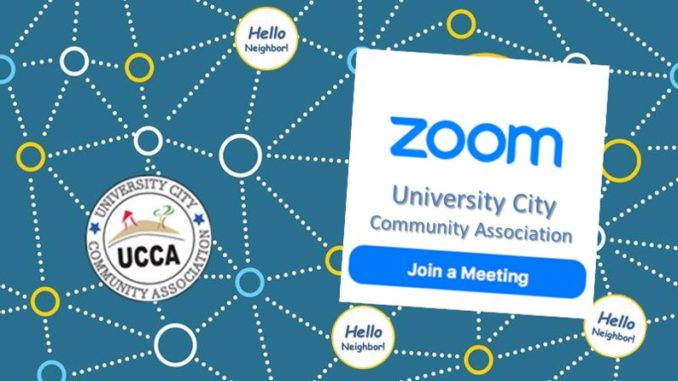 University City Community Association (UCCA) will meet on Wednesday, November 9,  at 6 PM via Zoom. This is a community meeting and all are welcome. CM Joe LaCava will be our special guest and provide some opening remarks. In addition, the community will hear updates related to Pure Water construction and upcoming community events, from the police department, planning group, community, and legislative representatives including city council, county, state and federal representatives. UCCA meetings also provide a public forum at which community interests may be expressed.
Why does UCCA host public meetings? It's part of UCCA's mission … to provide a forum where the interests of residents may be expressed and contributions made to the protection of life and property in the community. Our public forum includes the print newsletter, website and social media, community outreach, event support, and public meetings.
UCCA Preliminary Agenda: If you have an agenda item to share or wish to speak during Open Forum, please contact us at UniversityCityNews@gmail.com. The Zoom information is at the end of this post. Please note that all times listed are subject to charge. Tonight's special guest will be City Council member Joe LaCava. View and download a PDF version of the Preliminary Agenda at: Revised UCCA Agenda November 2022 – University City Community Association
Preliminary agenda items include:
6:01 PM Welcome – Diane Ahern
Tonight's special guest is City Council member Joe LaCava. He is expected to address the University City community during the early portion of our meeting.
6:02 PM Call to order – President's Remarks
• Pure Water construction has begun in Clairemont, University City, and on Miramar Road update – I'll provide a brief update later in the meeting
• Election Results – Preliminary election night results are posted at SD Vote. All results are unofficial until completion of the official canvass of the election on or before December 8, 2022.
• CPUS Meeting – Tuesday, November 15, 6 PM via Zoom
• Thanksgiving – Thursday, November 24
• Opioid (Fentanyl) Abuse Prevention and Overdose Response Training – Tuesday, November 29 at the Library on Governor
• Curie Elementary Community Fair – Saturday, December 3 at Curie Elementary: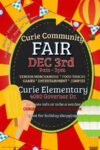 • Holiday Dinner with Santa and Tree and Menorah Lighting – Friday, December 9 at Standley Park: https://www.sandiego.gov/park-and-recreation/centers/recctr/standley
• Cookies with Santa – Thursday, December 15 at Nobel Recreation Center: Nobel Cookies with Santa 12-15-2022
6:09 PM Approve Agenda – Vote
Approve Minutes – Vote
6:10 PM Public Safety
• Police Department – Officer Anderson Brown
• Fire Department
•
6:15 PM Legislative representatives – 3 minutes with Q&A
• Mayor Gloria – Matthew Griffith
• US Representative Scott Peters – Rachel Dugan
• CA Senator Toni Atkins – Cole Reed
• CA Assemblymember Chris Ward – Ansermio Estrada
• County BOS – Terra Lawson-Remer – Spencer Katz
• CM Joe LaCava – Kaitlyn Willoughby – Krissy Chan
• SDUSD School Board –
• Candidates / Electeds
•
•
6:40 PM Community Leaders / Open Forum – 3 minutes with Q&A
• Community Planning Group (UCPG); Report available at: UCPG – Report From Chair Chris Neilsen re November 2022 UCPG Meeting
• Community Plan Update (CPUS)
• Pure Water construction on Genesee – Diane Ahern – Presentation at: UCCA Nov 2022 – Pure Water Presentation to UCCA
• A New PATH Opioid (Fentanyl) Prevention and Response Training – Nov 29, 6 PM: Jemma Samala – Library on Governor – https://sandiego.librarymarket.com/event/new-path-opioid-prevention-and-response-training
• Holiday Celebration Event at Standley Park: Barry Bernstein
•
•
7 PM Roll Call of UCCA Voting Members – Jim Beshears
UCCA Board Member and Committee Reports – 3 minute announcements and/or discussion
• Treasurer's Report – Jemma Samala – vote
• Membership Report – Julie Nydam
• Holiday Lighting Event – Funding
• Committee Reports – Newsletter / Advertising revenue
•
•
7:20 PM • UCCA – New Business
• Proposal for Curb Painting – Barbara Gellman
• December Meeting
•
7:30 PM • Adjourn
---
Zoom Information:
Topic: UCCA's November 9 Community Meeting
Time: Wednesday, November 9, at 6:00pm
Phone users, dial in and follow prompts: +1 669 900 6833
---