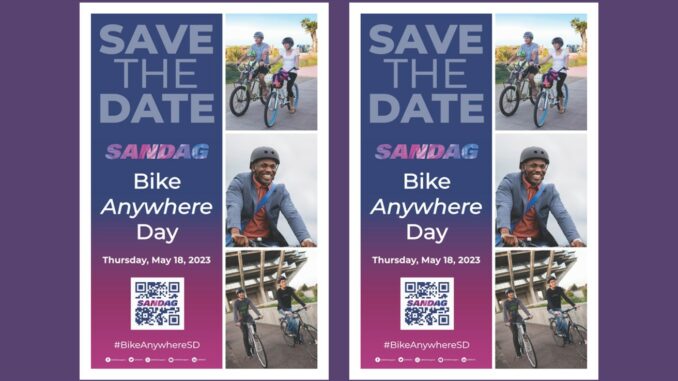 From SANDAG: Bike to Work Day is now Bike Anywhere Day, and the 2023 SANDAG Bike Anywhere Day Pit Stop Map is available to help participants map their ride ahead of the annual event on Thursday, May 18, from 6 – 9 a.m.
Pit stops will provide fun and engaging breaks where bike riders can pick up a free commemorative t-shirt, and grab refreshments and snacks. Participants will also receive encouragement from pit stop hosts including health care organizations, local businesses, municipalities, government agencies, colleges and schools, bike shops, and event sponsors. In 2022, nearly 7,000 people visited the pit stops around the region.
Bike riders in the University City area will find Pit Stops at Speeckels Elementary School on Stadium, University Community Library on Governor,  at Illumina on Judicial, UTC Mall on La Jolla Village Drive, and at several locations at UC San Diego.
On Bike Anywhere Day, participants can explore nearly 1,800 miles of bikeways throughout the region, from Oceanside to El Cajon to Tijuana, the 2023 SANDAG Bike Anywhere Day Pit Stop Map includes more than 100 locations for participants to plan ahead.
For more information, visit SANDAG at: https://www.sandag.org/bikemonth