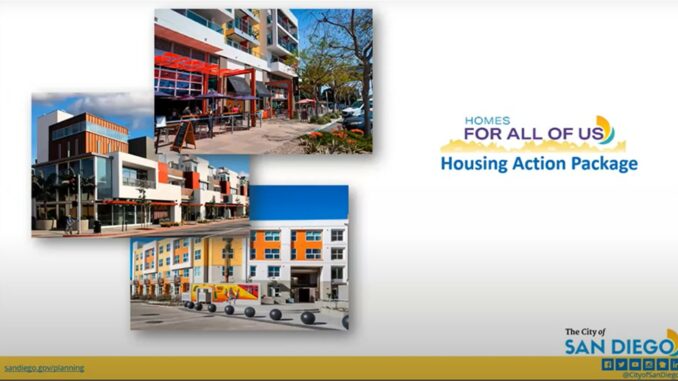 From the Office of the City Clerk dated 10/30/2023: PLEASE ACCEPT THIS AS A NOTICE TO INFORM YOU, as a property owner, tenant or interested citizen, that the Council of The City of San Diego, California will conduct a public hearing, as part of a scheduled City Council meeting, on the following project:
This action proposes the adoption of the Housing Action Package 2.0. HAP 2.0 is part of the Homes for All of Us initiative and will amend the Land Development Code and Resolution R-31282 (Neighborhood Enhancement Fund).
The Housing Action Package will amend the Land Development Code by doing the following:
1. Promoting the development of new homes by implementing recently adopted state law, revising accessory dwelling unit regulations, and amending existing affordable housing programs to encourage new homes on public land and for students.
2. Furthering fair housing and promoting the development of new homes for families and middle-income San Diegans.
3. Phasing out previously conforming incompatible uses located near residential uses within the Promise Zone.
DATE OF MEETING: MONDAY, NOVEMBER 13th, 2023
TIME OF MEETING: 2 P. M.
Instructions for providing testimony during the November 13th, 2023, Council Meeting are posted on the City Clerk's website at: https://www.sandiego.gov/city-clerk/officialdocs/participate-council-meetings. The amount of time allotted for each speaker will be determined at the discretion of the Chair, who will generally allow between one and three minutes per speaker depending on the number of speakers in the queue for that item.