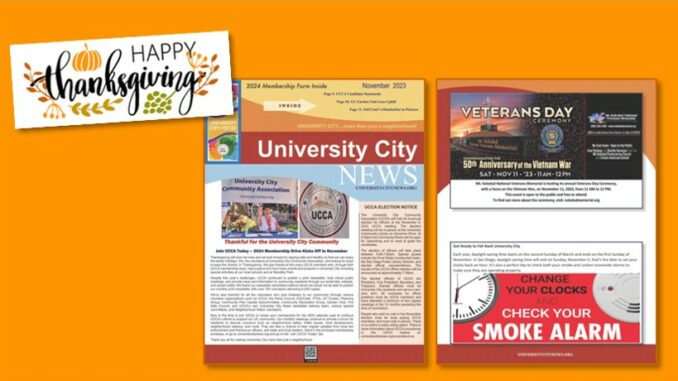 2023 UCCA Election Notice: UCCA will meet in-person at the Community Library, 4155 Governor Drive, on Wednesday, November 8. This is the UCCA Officer Election meeting. This is a public meeting and all are welcome. Those who wish to vote in the UCCA Officer Election must be dues-paying UCCA members who hold a current (2023) membership or who have paid their 2024 membership dues. 
Meet & greet with the UCCA Candidates, network with neighbors, and vote beginning at 5 p.m. The general meeting is scheduled from 6 p.m. to 7:30 p.m. We'll have an in-person presentation / update with the Pure Water construction team at 6 p.m. and a presentation / update on the Library Master Plan at 6:30 p.m. Please refer to the Election Notice and the Candidate Statements in November newsletter for more details.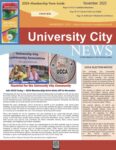 We have been enjoying all the Halloween decorations and fall festivities in University City … and now it's on to November. The November 2023 University City News (PDF version) is now online and available to read, print, and share with family and friends. Click on the Newsletter Cover image to read and download and share the PDF version.

The print version of the November 2023 University City News will be available to pick up at the Libraries and Recreation Centers this weekend; home delivery begins this weekend also.

Our University City News print newsletter is unique. It is the only source of hyperlocal news in University City. You will find news and features here that you won't find anywhere else. We thank all the UCCA dues-paying members, contributors, the County Board of Supervisors, and newsletter advertisers who help to keep us in print.

I am confident that you, our readers, value the University City News as much as I do. We need your support and donations to help keep our newsletter in print. We appreciate your support. I urge you to update your membership UCCA for 2024 at: https://www.universitycitynews.org/join-ucca-today/

Don't forget to check out our Save-the-Date at: https://www.universitycitynews.org/2023/10/29/save-the-date-heres-the-november-2023-short-list-for-university-city-community-events-and-meetings/

Thanksgiving will soon be here and we look forward to staying safe and healthy so that we can enjoy the winter holidays. Thank you for being part of our community. We who volunteer for at University City Community Association are looking for ways we can keep the 'thanks' in Thanksgiving.
Thank-you UCCA members: We give thanks to the many UCCA dues-paying members who, through their UCCA membership dues, helped support and fund many events and projects in University City including special activities at our local schools and at Standley Park. If you haven't had a chance to join or renew for 2024, no worries. You'll find an envelope in the November print newsletter. You will find other membership options online at: https://www.universitycitynews.org/join-ucca-today/
Thank-you newsletter contributors: Despite this year's challenges, UCCA continued to publish a print newsletter, host virtual public meetings, and provide news and information to community residents through our email lists, website, and social media. We thank our newsletter advertisers, dues-paying members, and the County Board of Supervisors without whom we would not be able to publish our monthly print newsletter.
Thank-you candidates: We're very grateful to the volunteers who stepped forward to take on a leadership role at UCCA. We'll elect new officers (president, vice president, treasurer, and secretary) at the November 8 in-person meeting. More information at: https://www.universitycitynews.org/ucca-election-notice/
Thank-you volunteers: We're also thankful for all the volunteers who give tirelessly to our community through various volunteer organizations such as UCCA, the Parks Council, EdUCate!, PTAs, UC Cluster, Planning Group, Community Plan Update Subcommittee, Community Recreation Group, Garden Club, Fire Safe Council, and UCCA's own University City News newsletter delivery team, various special committees, and neighborhood watch volunteers.
Thank you all for making University City more than just a neighborhood. Thank you for being part of our community.