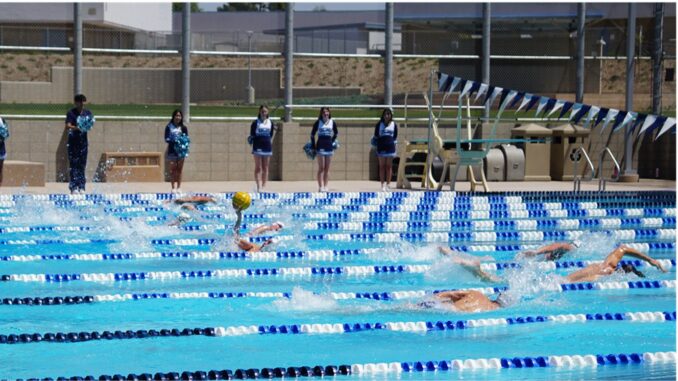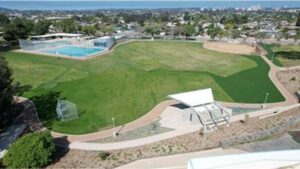 From SDUSD: San Diego Unified School District and the City of San Diego celebrated the opening of a joint-use pool near Standley Middle School on Thursday, April 7, 2022. A highly anticipated project for the community and nearby schools, the expanded aquatic center includes a new pool and pool amenities building, an outdoor pavilion for school and community gatherings, and a walking and running path.
Event photos and video, courtesy of San Diego Unified School District, are available at https://drive.google.com/drive/folders/1t1y5flXNxFWgX2nlxuqqZULnwRzrJpoS
University City High School (UCHS)'s swim and water polo members took the first monumental lap on Thursday, with chants and a drumroll from the school's cheer and drumline teams, and applause from attendees, including San Diego Unified Board of Education Vice President Sabrina Bazzo, City of San Diego Councilmember Joe LaCava, and Former Board of Education Trustee Dr. John Lee Evans.
"Pools like this are stepping stones for swimmers and divers who want to play at the collegiate level," said Bill Pearson, Standley Middle School Principal.
"This is a day to celebrate a new community amenity and a new athletic facility that will uplift San Diego Unified schools," said Bazzo.
This pool is part of the Play All Day partnership between the San Diego Unified and the City of San Diego, meaning it will be used exclusively by students at designated times and open to the public at other designated times. The UCHS teams plan to use the new pool for practice starting April 8.
"It's a game-changer for our swim and dive teams," said UCHS Principal Michael Paredes. "Our teams had to travel outside of University City for their practices before – now they only need to travel three minutes for practice."
'"The City of San Diego is proud to partner with San Diego Unified in delivering this outdoor pool for athletes, clubs, and residents," said Councilmember Joe LaCava, the District 1 representative. "This is another investment in University City, already a great place to live and learn, and an implementation of our city's 'Parks for All of Us' initiative."'
While the joint-use pool is now completed, work on a new two-story classroom building at nearby Spreckels Elementary School continues. As part of the Whole Site Modernization project, a new entry vestibule will be constructed for the student services and administrative building.
The joint-use facilities at Spreckels will expand with improvements to the existing Fort Field, a new natural grass multi-purpose field, decomposed granite walking track, hardcourts, play equipment, new additional off-street parking, and fencing to separate school and joint-use facilities.
Additional improvements at Spreckels include construction of a new student pick-up/drop-off area, creation of a secure and controlled visitor entry point, and major upgrades to the existing classroom, multi-purpose, and administration buildings. Once the Spreckels project completes in 2024, a modernization of the Standley campus will begin, capping off a series of transformative projects along Governor Drive.
The Standley and Spreckels projects are funded by San Diego Unified's capital bond improvement program, with a contribution from the City of San Diego for the Standley Joint-Use Improvement project. You can read more about the projects by visiting http://fpcprojects.sandi.net.
A tentative public opening date for the pool is scheduled for Monday, April 25. Those interested in using the pool can contact Standley Pool Manager Saunia Kammerer, at skammerer@sandiego.gov.
---
For related posts, visit https://www.universitycitynews.org/category/parks-recreation-dept/
For background information and history:
For more information from San Diego Unified School District: