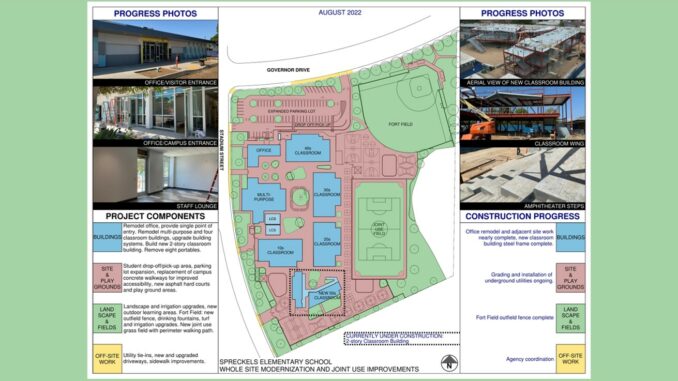 From John Lee Evans, former SDUSD School Board member: Spreckels Elementary School, on Governor Drive at Stadium Street just west of Standley Park, is undergoing a complete renovation and expansion.
The school has long had windowless classrooms and incomplete partitions between classrooms. The new version will add beautiful windows, separated classrooms and collaborative spaces. At the rear of the campus will be a new two-story classroom building.
The current rough playground will be replaced with a grass field surrounded by a track. When completed, this field will be joint use between the school and Standley Park. On non-school hours it will be open to the public and will expand the green space of the park.
Additionally, the front school parking lot will be expanded by moving playground equipment to another part of the campus. This will allow for a safer off-street drop off area for the students and will provide additional parking for the park on weekends. The staff and students will continue to work and study on the campus as the construction moves around them.
This construction project will create a facility that our students deserve and it will greatly enhance the community public space around Standley Park. This is a multi-year endeavor; the expected completion of the Spreckels Elementary School Whole Site Modernization and Joint Use Improvements is late 2024.