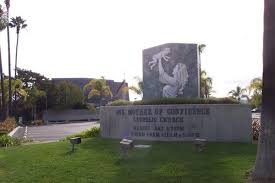 Our Mother of Confidence Catholic Church, 3131 Governor Drive, presents RIGOLETTO on June 14, at 12:30 PM, in the The Brown Bag Opera Series.
This production moves the Opera to 1960's Las Vegas. The Duke is a casino owner and the courtiers are Rat Pack lounge lizards, dressed in brocade tux jackets, reminiscent of the Rat Pack. Plenty of neon in this production with all the trappings of the typical casino. The opera survives this setting because of the story line.
You are invited to bring a sack lunch, snacks, and your beverage of choice and come enjoy an afternoon of great music drama.
THERE IS NO CHARGE FOR THIS EVENT AND ALL ARE WELCOME. THIS IS OMC'S GIFT TO UNIVERSITY CITY. THERE IS NO PRIOR REGISTRATION REQUIRED.
Composer: Gaetano Donizetti
Librettist: Salvatore Cammarano
Duke of Mantua tenor, PIOTR BECZALA
Rigoletto baritone, ŽELJKO LUČIĆ
Sparafucile bass, ŠTEFAN KOCÁN
Gilda soprano, DIANA DAMRAU
Metropolitan Opera Orchestra and Chorus
Approximate running time: 2 hrs. 30 min.
Contact: Glenn J. D'Abreo, gdabreo@omcsandiego.org