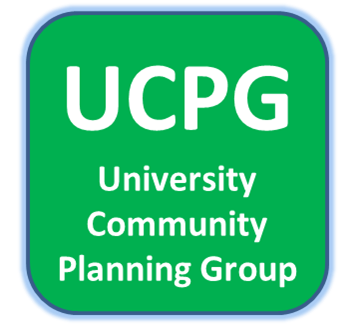 Report from Nancy Groves, UCPG District 1 Representative:
Chairperson Janay Kruger announced the projects going forward to the Planning Commission: University Terrace East (Angelucci apts), West End Project (houses on Regents Road). Also announced was a public scoping meeting on single-use carryout bag ordinance. New crosswalk at La Jolla Village drive and Genesee and resetting the traffic lights is going forward within four months.

Planning Group members were given a list of the 15 public projects, 20 private projects, and 3 potential projects being processed by UCPG.

The UCSD rep gave an update on the opening of the newest section of Scripps Coastal Meander Trail. The graduate student Mesa Housing is to replace 85 apts. with 1105 apts. A satellite utilities building will be added for the medical school. An EIR for the Voigt right of way is being prepared.

Council person Sherri Lightner's rep reported on the 2016 city budget, addition of 3 lifeguards, support for the arts, 3 hours additional for libraries giving UC an 8 ½ hour day on Saturday, Swanson Pool has been temporarily closed in March and May because of contamination, pedestrian safety and traffic, Doyle International Festival and Lightner's support for the UC 4th of July Celebration.

Senator Marty Block's rep reported on CA Budget due June 15 and SB15 for graduation from college in 4 yrs, and SB 369 Military Child Tracking in Education.

Congressman Scott Peters rep reported on Defense budget appropriations, his position against sequester, Support for Vets archived.

Dan Monroe for City Planning Dept. reported on the Regional Transportation plan with Sandag.

A UTC renovation update was given that starting in July much of the parking will be closed off for 12 mo. and busses will be moved out of UTC. All UTC watering will be purple piped recycled and will mitigate down to baseline for water neutral using no more than before.

The La Jolla Village Center is starting renovation and will close the Landmark theatre and several businesses in the center. The Post Office will have to move by Oct 31st when their lease runs out and is trying to find a new location. They have a neighborhood use permit for 800 P.O. boxes and need 2,400 sq ft in this area to service the current box holders. If you would like to make suggestions for a relocation mail ATTN: Dean Camaron, 1300 Evans Ave., Suite 200, San Francisco, CA 94188.

San Diego Forward Sandag, Regional Transportation plan is available and a UCPG subcommittee was appointed to review the plan and make comments by July 15. UCPG voted to waive the 10-day appeal period for Spectrum One and Two to allow them to pull building permits immediately after planning commission approval. The vote was 18 in favor and 3 abstentions.

David Akin, Public Utilities Customer Advocate spoke on the hot topic of water. The pure water project will purify wastewater and put it into the San Vincente Reservoir providing 1/3 of the city's water supply, but they are still building infrastructure so it will probably be 10 years before it is distributed. Also 10 % will come from the desalination plant. Discussion ensued and questions were asked about HOA's setting individual sub metering to encourage individual water conservation. It is possible but would cost $350 per unit. Parks and Rec needs to make real efforts to save water. The purple pipes do not extend south so getting recycled water to Balboa Park is not now feasible. Planning and development must require drought tolerant plantings for new development. New construction should use recycled water for dust control when possible. Aiken reminded people to change sprinklers to 2 times a week for no more that 5 minutes and to switch to micro spray and drip. Rebates for grass removal will begin July 1 at midnight; they must be preapproved and will be granted only until the $350,000 is allocated. Watch for new rebates for grey water, rebates for micro sprayers and drip. Free home surveys are available from the water department. There is a new free app for the smart phone available called Waste No Water or go to http://wastenowater.org.

Brian Elliott presented information on the Climate Action Campaign. The draft climate action plan is to reduce the CO2 greenhouse gases 50% back to the mid 90's level by 2035 to prevent fires and deal with the rise of sea level. Transportation makes 54% and heating and cooling make the rest. By 2035 the climate action plan would have the 87% who commute by car reduced to 50%, the 10% who take public transportation change to 25%, the 1% who walk change to 7% and the 1% who bike change to 18%; we need to shift our transportation focus. Community Choice Energy would buy electricity, deliver energy, maintain lines and benefit customers with affordable rates with local controlled clean energy. San Diego is currently 2nd in the nation in solar installation meaning many jobs for the city. Learn more about the Climate Action Campaign at http://www.climateactioncampaign.org.

The Fire Stations Committee is working on design and traffic flow for station 50 on Nobel. A Campus Point subcommittee was appointed to report back in July.

Next UCPG meeting is July 14 (I will not be able to attend and will report in September); and there is no meeting in August. September meeting is Tuesday, September 8, 6 PM at a new location, Scripps Building at 10010 Campus Point Drive, first floor on the left. Plenty of free, open parking.
For more information on the planning group, including contacts and agenda, visit http://www.sandiego.gov/planning/community/profiles/university/agendas.shtml
---
What do Facebook, Twitter, Nextdoor, ImproveUC and UCCA have in common? They are all ways neighbors can connect with neighbors and the University City community. Create a post, start a conversation, share the news, organize an event, keep in touch, take a look: