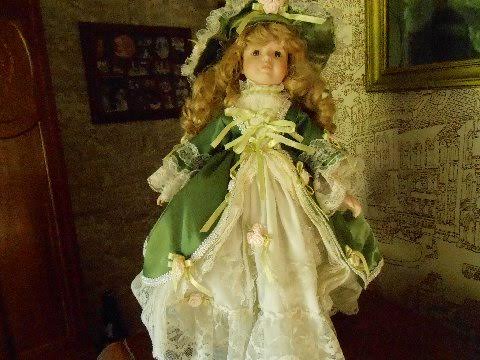 Courtesy of University Community Library Friends:
Hi Book Lovers and Supporters of the UC Branch Library,

Our first book sale is just over a month away. It will begin on Thursday, March 3 at 1 PM and continue on March 4 and 5 during regular library hours (remember the library is now open until 6:00 PM on Saturdays). It will be held, as always, in the community room at the library, 4155 Governor Drive, 92122.

We continue to receive an enormous number of donations each week. Sometimes we also are given an unusual item that we try to sell either at one of our sales or through other advertising.

---

This time we have received a beautiful doll. We are looking for any information we can find about this doll so that we can properly value it. She is 19″ tall, on a stand with a music box that plays the song "Evergreen" from the movie "The Way We Were." She has bisque hands, feet, and head, brown eyes, and beautiful clothing in perfect condition. She is reminiscent of Gorham dolls made in the 70's and 80's. If you have information about this doll or are interested in bidding on it, please respond by email to ucfriends@aol.com.

---

We also continue to have an amazing set of medical illustrations in 9 complete volumes by renowned medical illustrator, Dr. Frank Netter. This set of The CIBA Collection of Medical Illustrations is the 13th printing (1980) and is still in its shrink wrapped case. All books are individually wrapped and are in pristine condition, never having been opened. We have them advertised for $75 online, but will sell to Friends supporters for $50. Again, please respond by email to ucfriends@aol.com.

---

Thanks for your support and don't forget our daily sales, available whenever the library is open.
Visit the University Community Branch Library Facebook page at https://www.facebook.com/SDPL-University-Community-Branch-Library-109133152458107/?fref=ts
Visit the Friends Facebook page at https://www.facebook.com/FriendsOfSDPLUniversityCommunityBranch/?ref=bookmarks
View related posts at https://www.universitycitynews.org/category/library/
---
Notes: Join UCCA today at https://www.universitycitynews.org/join-ucca-today/
If you have a news item to share, please submit your story through UCCA's Contact Us link at https://www.universitycitynews.org/contact-us-or-volunteer-in-uc/
Review article guidelines at https://www.universitycitynews.org/ucca-newsletter-archives/
What do Facebook, Twitter, Nextdoor, ImproveUC and UCCA have in common? They are all ways neighbors can connect with neighbors and the University City community. Create a post, start a conversation, share the news, organize an event, keep in touch, take a look: