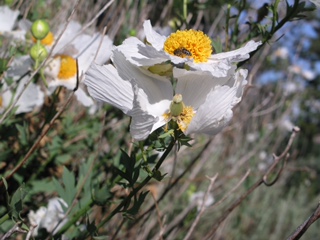 Story and photos courtesy of Edith Frampton:
Stop by Rose Canyon Open Space Park on Genesee Avenue, across from UC High School, to admire the Matilija poppies (Romneya coulteri) now flowering. These distinctive shrubs have a short blooming season, so don't delay.

---

---

This plant's common name honors Chief Matilija, leader of a Chumash community in the Ojai area (now Ventura County) during the early 1800s. Matilija's tribe had conflicts with Spanish soldiers and several Chumash legends tie the huge white flower to these disputes.

Also called "fried egg plant" for the flowers' appearance, Matilija poppies are native to coastal scrub sage and chaparral habitats from Santa Barbara County south into Baja.
---
To view related posts, visit https://www.universitycitynews.org/category/university-city-news-ucca/
Notes: Join UCCA today at https://www.universitycitynews.org/join-ucca-today/
If you have a news item to share, please submit your story through UCCA's Contact Us link at https://www.universitycitynews.org/contact-us-or-volunteer-in-uc/
Review article guidelines at https://www.universitycitynews.org/ucca-newsletter-archives/
What do Facebook, Twitter, Nextdoor, ImproveUC and UCCA have in common? They are all ways neighbors can connect with neighbors and the University City community. Create a post, start a conversation, share the news, organize an event, keep in touch, take a look: