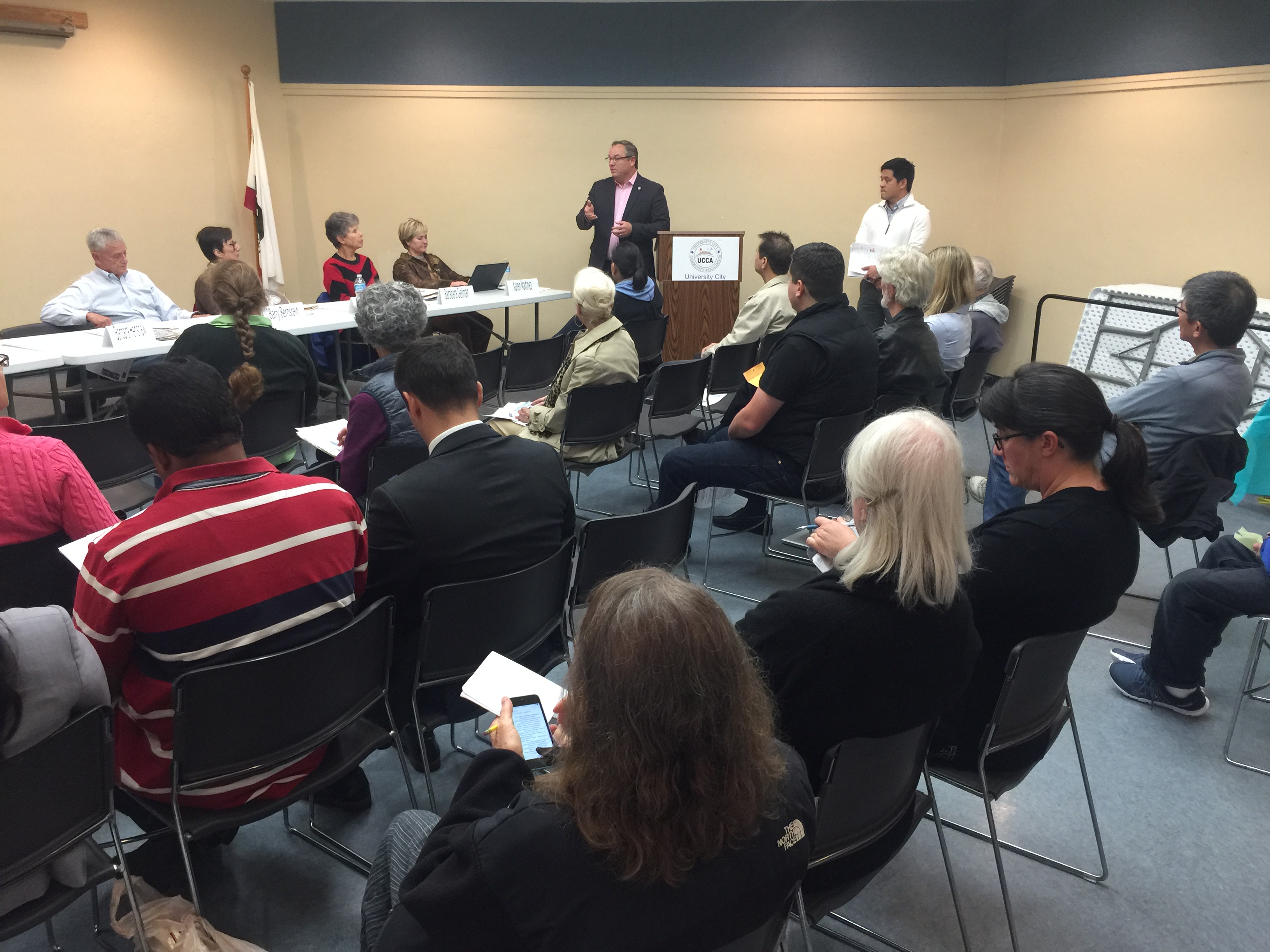 Courtesy of UCCA President Barry Bernstein:
Welcome 2017 — goodbye Chargers! I hope your holidays were happy times for you and your families.

UCCA in coordination with Standley Park hosted the annual "Dinner with Santa" and Tree/Menorah Lighting on December 9; see photos on pages 10 and 11 of the February print newsletter.

Rain, and lots of it, finally arrived in San Diego and our major reservoirs are near capacity. Our beautiful street banners, depicting our community activities, adorn many of the Governor Drive street poles; and a few more painted electrical boxes have been completed reflecting some of the points of interest in south University City.

Barbara Bry, our newly elected District 1 City Council official, dropped by UCCA's January 11 meeting to say thank you to our community, and outline her objectives. She was politely reminded of the need for a separate fire station in south University City. Ms. Bry introduced her community representative to University City, Mr. Bridger Langfur. Bry's first round of community office hours in University City will be on Saturday, February 11,  from 1 to 2:30 PM, at the University Community Library, 4155 Governor Drive.

Also at this meeting there was a presentation made by the City of San Diego's Pure Water Program. A donation to UC Little League was approved, and the first requests for donations to support the UC High School Music Boosters and the UC High School Swim team were received, as well as the Marcy Park Improvement project presented by Ruth DeSantis.

At the UCPG meeting last month one of the agenda items, (newly developed property at 5807 Regents Road) attracted lots of our residents. See article on page 13 of the February print newsletter.

The sad news of the recent passing of Dr. Ernie Lippe, husband to our Sandy Lippe, means our community has lost a most devoted long-time resident who has been part of and participated in making south University City a proud community. We were privileged to have known Ernie and appreciated his love of music (a founding member of the Tuesday Nite Alibi), and his jokes and storytelling. We will all miss him.

UCCA needs you to join! We want to continue to support the many worthwhile school and community activities at its highest levels…so in order to do that, we need you to join UCCA. See our membership information on page 12 of the print newsletter; or visit https://www.universitycitynews.org/join-ucca-today/. Thank you.
---
The next UCCA meeting is Wednesday, February 8, at 6 PM at the University Community Library on Governor Drive.