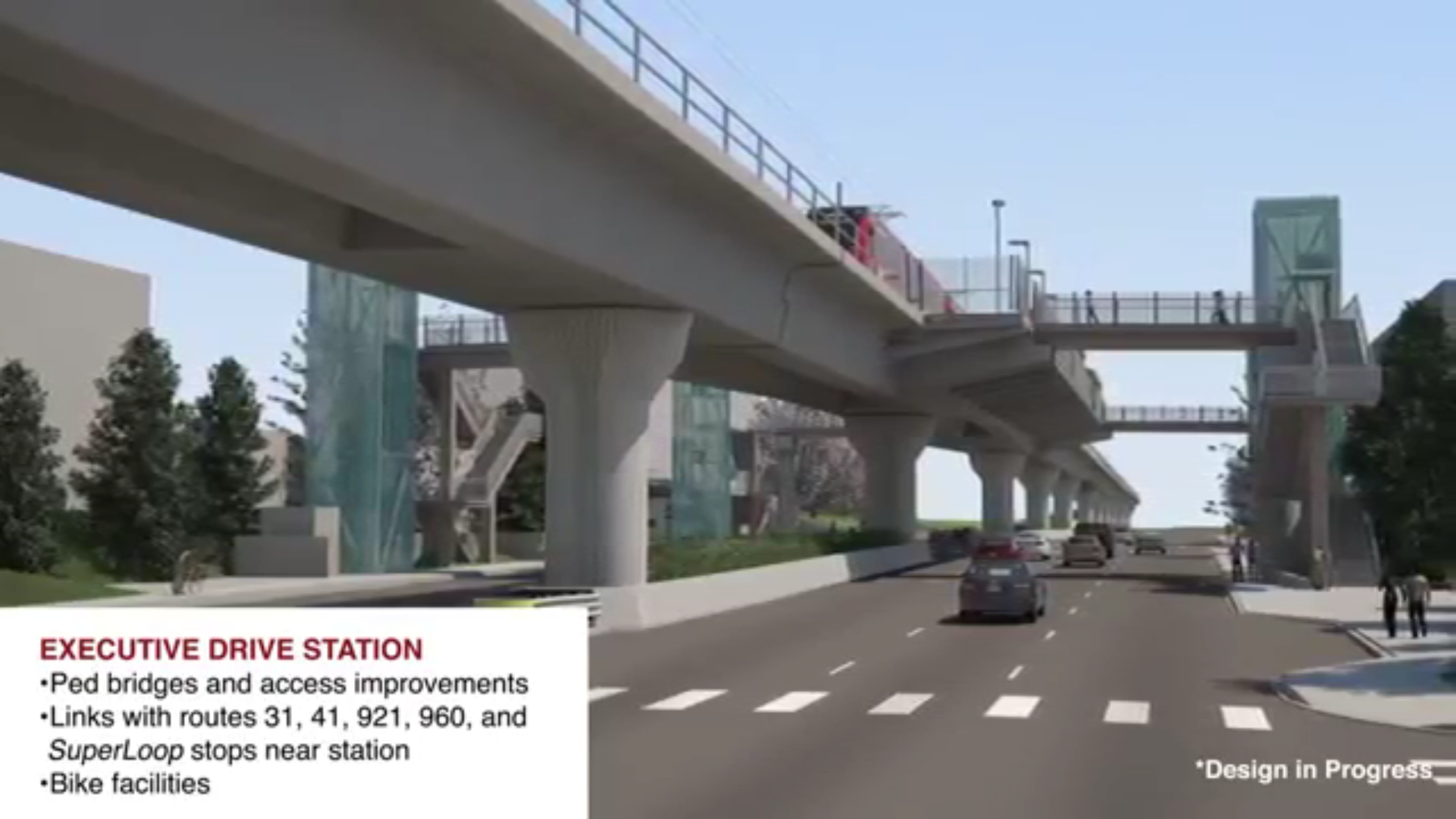 Courtesy of SANDAG:
GENESEE AVENUE STREET CLOSURE & PEDESTRIAN BRIDGE DEMOLITION

In late March and early April, crews will begin the process to demolish the Genesee Avenue pedestrian bridge at Executive Square. During the March 31 weekend, crews will install and re-stripe temporary pedestrian crossing signals. During the following weekend of April 7, crews will demolish the pedestrian bridge. Both weekends will require a full street closure of Genesee Avenue, from La Jolla Village Drive to Executive Drive, to complete this work.

Closure and work hours are scheduled from:

9 p.m. on Friday, April 7, through 5 a.m. on Monday, April 10

Major construction activities include:

Permanent removal of the pedestrian bridge at Executive Square and Genesee Avenue.
Installation and re-striping of temporary pedestrian crossing signals at Executive Square and Genesee Avenue.
Trenching and street excavations for utility relocation.
The pedestrian bridge is being demolished to make room for the future Executive Drive Station, which will also serve as a pedestrian crossing when the project is complete.

Crews will minimize impacts to neighboring residents and businesses as much as possible.

To cross Genesee Avenue during installation of temporary crossing signals and removal of the pedestrian bridge at Executive Square, pedestrians should use the crosswalks located at La Jolla Village Drive or Executive Drive.

Work areas: See attached diagram/map.

*Please note that construction schedules are subject to change.

The Mid-Coast Trolley will extend Trolley service from the Old Town Transit Center to the University City community. Service is anticipated to start in 2021. New stations will be constructed at Tecolote Road, Clairemont Drive, Balboa Avenue, Nobel Drive, VA Medical Center, Pepper Canyon (UCSD west), Voigt Drive (UCSD east), Executive Drive, and the terminus station at Westfield UTC Transit Center.
For additional information about the Mid-Coast Trolley project, visit KeepSanDiegoMoving.com/MidCoast at http://www.keepsandiegomoving.com/Midcoast/midcoast-intro.aspx.
For related posts, visit the Transportation category at https://www.universitycitynews.org/category/transportation/