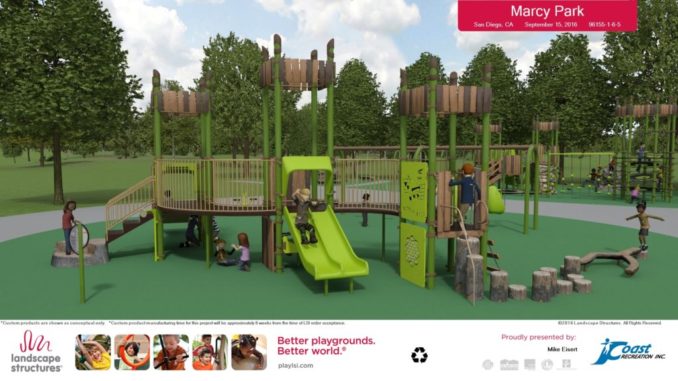 Courtesy of Ruth DeSantis & Don Hotz, Project Managers UCCF / Improve UC Board Members; as published in the April print newsletter:
Thank you to all the people who have supported the Marcy Park project. To date, we have received donations totaling just over $10,000, and we haven't even had our first fundraising event. We expect to boost that figure soon with a donation from the UCCA.

Historically, UCCA has been a great supporter of community improvements. Funding for improvements, such as the Marcy Park project, comes in large part from UCCA membership dues. Please take a minute to renew your membership as it goes right back into our community!

With enough resident donations, we expect to be able to undertake the first phase of improvements to Marcy Park before the end of this year. This phase is proposed to include replacing missing play equipment, changing infant swings to standard belt swings, re-painting the play structure and adding benches along the concrete walkway.

The City has agreed to replace the missing concrete picnic table and we have requested examination of the older trees for safety. These improvements would hold us over until phase two, when the City would completely replace the 2-5 year play structure, add a new play area for older children and re-do the slope to create ADA access.

One of our locals, Ryan Ahearn (pictured), has been giving back to our community by donating his time and resources to the Marcy Park project. Many enjoyed his free pie giveaway in November and Bounce into Spring in March, with a bouncy house, food trucks and free bag giveaway. He and his team have been doing a great job of promoting the Marcy Park project. As a realtor, Ryan is aware that a well-maintained park adds great value to homes and is a draw for potential new buyers. Like most local parents, he and his wife are excited about plans to renovate the park that their young daughter often visits.

Many have asked about the cost to complete the more extensive phase 2 renovation. Like an ever-moving target, this figure seems to keep changing. In a recent meeting with the Assistant Director of Parks and Recreation, we learned that the total project cost will not be known until the project is submitted for review, analysis and bid. With enough community support, a beautiful phase 2 renovation could be completed within the next 4 to 6 years.

A representative for Mayor Faulconer's office suggested that to expedite the renovation of Marcy Park, it is necessary for residents to express their support for the project by emailing the following representatives: Barbara Bry, through UC representative blangfur@sandiego.gov and University Community Planning Group UCPG through president janay_kruger@msn.com.

Without a showing of support from a majority of UC residents, the City will not commit the funds and staff required to review the plans and renovate Marcy Park. While we work diligently to keep Marcy Park on the City's radar, we ask for your assistance. If you cannot give financially, know that your voice has power and is very much needed if we are to see phase 2 become a reality. Please contact your local elected official (shown above) today. For more info, or to donate, go to www.MarcyParkProject.com.

They say it takes a village and it does! A shout out to those who have put their money where their mouth is: Brian Julien, Poseidon Restaurant, Ryan Ahearn, Dale & Martha McGinty, Ruth DeSantis, Douglas Tharp, Don & Valerie Hotz, Steven & Lynn Shields, William & Nancy Ivey, Jonathan Tang, Ronald Kay, Barbara Sazon, Frank & Lynda Gordon, John Beacom, Ernie & Sandy Lippe, Nancy Beattie, Carrie Reichert, Barbara & Irvin Gellman, John & Suzanne Ohlfest, and William Batista.
For related posts, visit https://www.universitycitynews.org/category/improveuc/