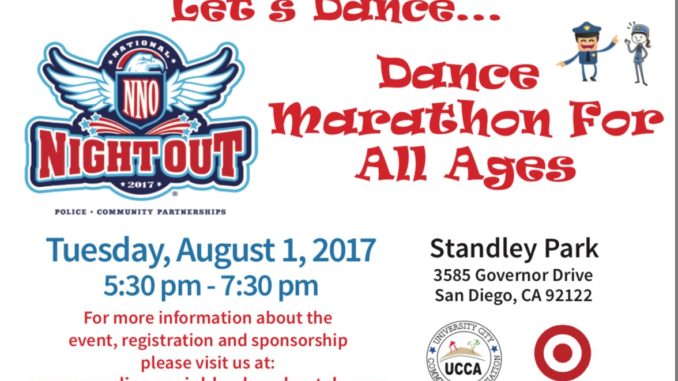 Information courtesy of Sandy Lippe and Barbara Gellman:
National Night Out is Tuesday, August 1st.

This year's event in University City will feature a dance marathon for all ages at Standley Park, 3585 Governor Drive, San Diego 92122 between 5:30 p.m. and 7:30 p.m.

Dancers are urged to get sponsors who pay them to dance and raise funds for the San Diego Police Foundation.  A disc jockey will spin songs of your choice.

Expect an evening of fun in the setting sun.  Kickoff dance group is U-Jam who will make you feel the beat and move your feet.

Registration begins at 5 PM at Standley Park. Target (yes, the department store) is providing prizes for children and University City Community Association (UCCA) is promising surprises for the community.

Bring the family to this worthy cause: funding for equipment for our police.

Turn off the television and the mobile devices; dig out your dance shoes or just show up for an electric evening watching the fun while dining at one of the three food trucks.

Everyone knows that University City is more than a neighborhood.  Tuesday night, at Standley Park on the first day of August, it will be party central for all.

Everyone can dance with or without partners or sponsors. And a Police Foundation representative will be on hand to accept donations.
For more information, visit http://www.sandiegoneighborhoodwatch.com/university-city-national-night-out.html