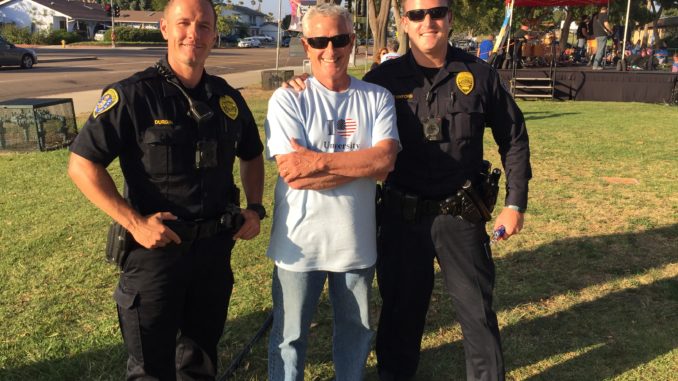 Courtesy of Lt. Dan Grubbs, Northern Division, SDPD:
The Northern Division Crime Suppression Team (CST) is comprised of uniform officers who work proactively to address chronic problem locations and career criminals throughout Northern Division. CST accomplishes this task through the use of several different techniques: saturation, bicycle, ATV, and 4X4 vehicle patrol on the beach and streets and in canyons throughout the division.

The team conducts compliance checks of local probationers and parolees and conducts operations with the San Diego Police Narcotics Division targeting drug sales and use. CST has shut down several chronic narcotic sales houses and locations and continues to monitor them for repeat activity. The team works closely with private loss prevention officers at the University Town Center Mall, Clairemont Town Center and shopping centers along 5500 Balboa Avenue.

The team was recently involved in a long-term investigation regarding a violent organized crime theft crew who was hitting these retail locations for $4,000 – $14,000 per theft of electronic items and clothing. In September, CST served a search warrant on the two main suspects in conjunction with several other search warrants throughout Orange, Riverside and San Diego counties. A total of 18 suspects were taken into custody and booked into jail, with arrest warrants issued for 10 more suspects.

A significant amount of stolen retail merchandise was recovered. CST conducts outreach attending community meetings, meet and greet walks, and provides static displays of vehicles and equipment at events in Northern Division. The team acts as an evening hours quality of life team offering services to reported homeless individuals and taking enforcement action when appropriate.

CST conducts traffic enforcement operations at locations in response to community complaints. All of this activity has a significant impact reducing calls for service for patrol officers and improving the safety and quality of life for Northern Division communities.
Pictured in August: Crime Suppression Team officers with UCCA president Barry Bernstein.
For related posts, visit https://www.universitycitynews.org/category/sdpd/