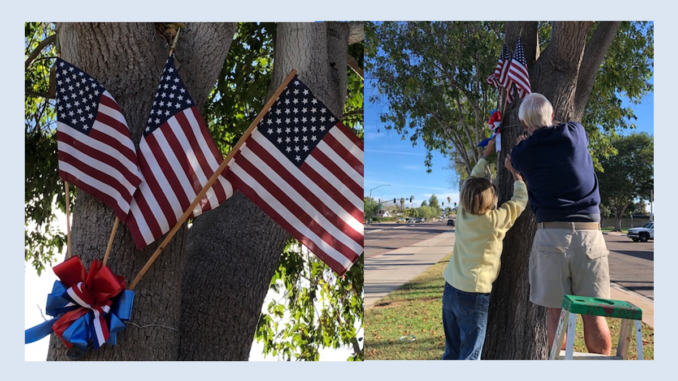 Many members of the University City Community Association (UCCA) board over the years grew up in places we call Small Town America.
From New England towns to Midwestern towns, from Southern hamlets to Northwestern hamlets, patriotic holidays always brought out the red, white, and blue in long parades on main streets, in VFW halls on expansive lawns. Everyone gathered with great pride.
UCCA honors our veterans in a small way this year with American flags on the trees fronting Standley Park on Governor Drive, a reminder to our children and all of us that the Veterans Day holiday is for a reason, to honor the sacrifice on the part of American service men and women.
As you are out and about on this Veterans Day weekend, take note of the American flags at Standley Park and thank a Veteran today.
---
As published in the University City November newsletter, UCCA honors all veterans, including Rudy Molina, Mike O'Sullivan, and Jay Cook from University City. Download the November newsletter at https://www.universitycitynews.org/ucca-newsletter-archives/