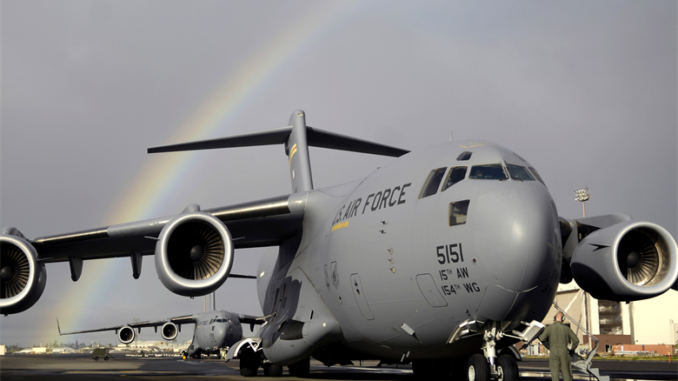 U.S. Navy to deploy undersea rescue capabilities to Argentina to help search for missing submarine (UNCLASSIFIED)
From Diane Ahern through the Community Liaison Office at Miramar:
Three U.S. Air Force C-17 Globemaster III and one U.S. Air Force C-5 Galaxy aircraft will transport the first rescue system, the Submarine Rescue Chamber (SRC) and underwater intervention Remotely Operated Vehicle (ROV) from Miramar to Comodoro Rivadavia, Argentina.

The four aircraft are scheduled to depart MCAS Miramar Nov. 18 and arrive in Argentina Nov. 19.

Background: The U.S. Navy has ordered its Undersea Rescue Command (URC) based in San Diego, Calif., to deploy to Argentina, Nov. 18 to support the South American nation's ongoing search for the Argentinean Navy submarine A.R.A. San Juan in the Southern Atlantic.

URC is deploying two independent rescue assets based on a number of factors, including the varying depth of ocean waters near South America's southeastern coast and the differing safe operating depths of the two rescue systems.

The second rescue system, the Pressurized Rescue Module (PRM) and supporting equipment will be transported via additional flights and is scheduled to arrive in Argentina early next week.

The U.S. government is supporting a request from the government of Argentina for international assistance to the ongoing search for the missing submarine and possible rescue opportunities once the vessel and crew are located.

A Navy P-8A Poseidon multi-mission maritime aircraft and a NASA P-3 research aircraft are already in Argentina assisting ongoing search efforts near the submarine's last known location.
Info on missing submarine from CNN: http://www.cnn.com/2017/11/17/americas/argentina-submarine-missing/index.html
For more information about MCAS Miramar, visit https://www.universitycitynews.org/mcas-miramar-operations-information-and-contacts/