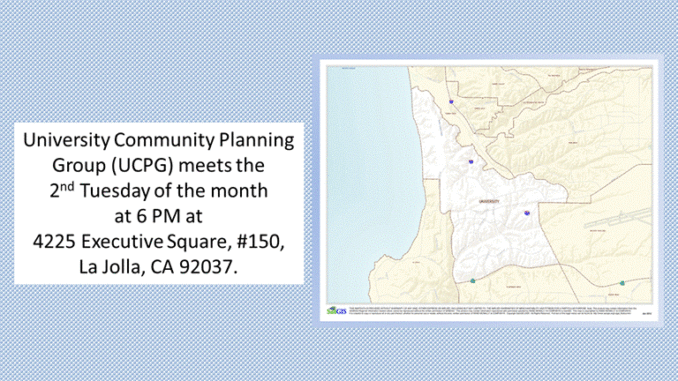 Courtesy of Nancy Groves:
Updates were presented from Westfield UTC, University of California San Diego (UCSD), City Council District One (Barbara Bry's office), and SANDAG (San Diego Association of Governments).

Community comments included two from students regarding the preservation of coastal resources and the Pure Water project.

Action items included the Illumina Campus Expansion and the Pure Water DEIR Review.

There is no December meeting of UCPG; the next meeting is Tuesday, January 9, 6 PM, at a new location at 4225 Executive Square, Suite 150, La Jolla, CA, 92122
To read Nancy's complete report, visit UCPG info from December January 2017-2018 Newsletter
For more information, visit https://www.sandiego.gov/planning/community/profiles/university/agendas
For related posts, visit https://www.universitycitynews.org/category/ucpg/
---
Your Elected UCPG Representatives, courtesy of Barry Bernstein, UCCA President:
The University Community Planning Group (the six South UC elected representatives are pictured on page 13 of the December/January 2017/2018 newsletter), meets monthly to review various building/road construction permits and plans impacting growth in the larger University Community.
UCPG is one of many City of San Diego officially recognized community advisory groups. Some of their other responsibilities include the development of our Community Plan as well as recommendations for expenditure of funds collected by the City from issued building permits.
UCPG boundaries go as far north as Torrey Pines Rd, west to the Pacific edge of UCSD, and South to San Clemente Canyon, with 805/Miramar MCAS as the eastern boundary. That's a lot of territory where there's a lot going on! UCPG members have lot of reading to do in preparation for their meetings. Janay Kruger presides over the group and Meagan Beale, a South UC resident, is co-chair.
For more information, visit UCPG info from December January 2017-2018 Newsletter