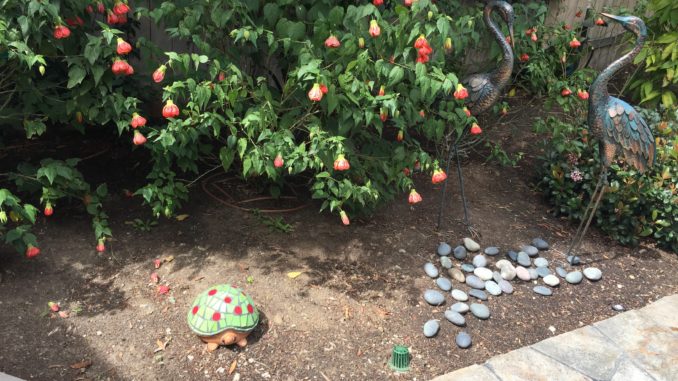 The 'Garden Doctor' made a house call at a University City garden on Sunday afternoon. Neighbors gathered in a recently re-landscaped woodsy Zen-like setting complete with shade structure, BBQ patio, and surrounded by azaleas, camellias, clivias and specimen trees. UC Garden Club president Ginger and homeowners Mack and Merle welcomed UC Garden Club members to the Asian inspired oasis. As neighbors shared champagne and yummies, they wandered the delightful backyard garden space.
The Garden Doctor, also known as David with Walter Andersen Nursery, started his presentation by highlighting the importance of soil enhancement in San Diego gardens. "If you take care of your soil, your soil will take care of your plants,' he said. "The key to success in any garden is the soil." He recommended that local gardeners use soil enhancers rather than rely on fertilizers. Soil enhancers will feed the soil, he said, making the soil better. And that benefits the plant. Fertilizers will feed the plant but must be applied every 2 weeks to be effective.
The next Garden Club meetup is scheduled for Sunday, April 8, from 2 to 6 PM. The featured speaker is a professional cacti and succulent grower; the highlight will be the various plant varieties found in the gardens.
---
Ginger Steketee is the UC Garden Club president. The UC Garden Club is partnering with the Linda Vista Village and Community Garden Club. They are always interested in hearing from neighbors who would like to share their gardens with other garden lovers. Contact the UC Garden Club at ucgardenclub@gmail.com to get on the Garden Club mailing list and to volunteer to share your garden.
Take a look at the March meetup and enjoy.