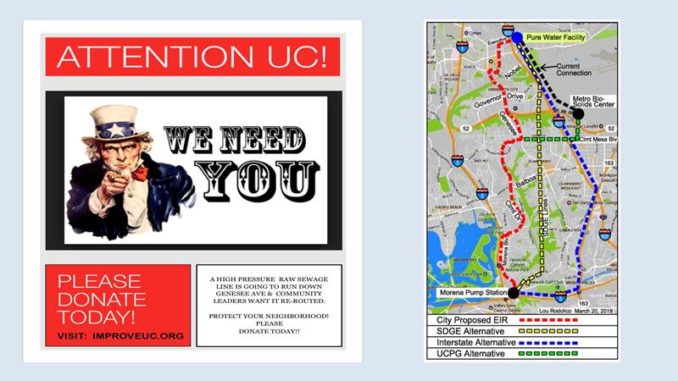 Yikes!! "Pure Water" pumping sewage uphill on Genesee?
Yep! Learn more at the Community Rally on Saturday at Standley Park, from 9 AM to 11 AM, 3585 Governor Drive.
A Pure Water Sewer Pipeline information booth will be set up at Standley Park on Saturday morning to answer questions you may have about the proposed pipeline through Clairemont and University City on Genesee Avenue.
Stop by to say hi. There will be representatives from UCCA (University City Community Association) and UCCF (University City Community Foundation) available.  Find out what this pressurized sewer line means for our community and what you can do.
Donate to the Go Fund Me campaign at https://www.gofundme.com/pure-water-sewer-lawsuit-fundraiser?member=82992
For more information, visit the UCCF website at http://www.improveuc.org/
---