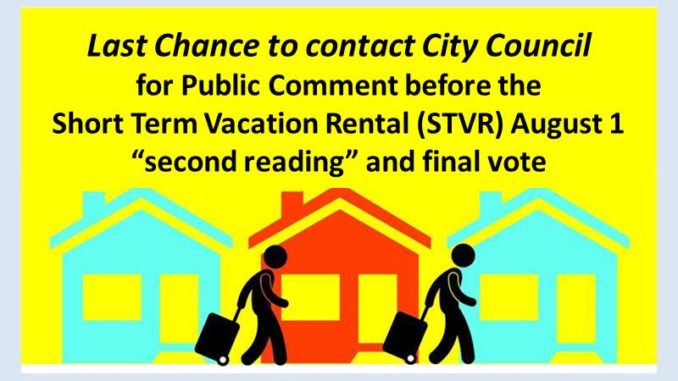 University City Community Association and the San Diego Community STVR Working Group fully support the recently passed and amended short term vacation rental ordinance (STVR). But nothing is final until August 1 when City Council has a 'second reading' and must take a second vote for passage. Contact Councilmembers using the contact information listed below.
Before the special City Council meeting on August 1st, please contact these Councilmembers to thank them for their vote and to ask them to continue protecting our neighborhoods by voting YES for the amended proposal:
Barbara Bry at 619-236-6611 or barbarabry@sandiego.gov
Lorie Zapf at 619-236-6622 or loriezapf@sandiego.gov
Chris Ward at 619-236-6633 or christopherward@sandiego.gov
Myrtle Cole at 619-236-6644 or myrtlecole@sandiego.gov
David Alvarez at 619-236-6688 or davidalvarez@sandiego.gov
Georgette Gómez at 619-236-6699 or georgettegomez@sandiego.gov
For the most up-to-date contact information and links to Council District pages, visit https://www.sandiego.gov/
UCCA liaisons to the STVR Working Group, Mack Langston and Diane Ahern, have been providing input and support to reinforce Barbara Bry's efforts to protect our community and others from becoming "weekend" hotel locations. Message courtesy of UCCA's president Barry Bernstein; intended for all University City residents.
---
Suggested email message to Councilmember (please personalize to include your name and address):

Please vote YES on August 1 at 2nd reading of STVR/STRO regulations
Good morning, Councilmember,
Thank you so much for voting to protect our San Diego neighborhoods and to prevent them from becoming commercial districts full of mini hotels. I support your vote to prioritize San Diegans and our neighborhoods over investors; and the primary-residence-only solution to protect our housing stock from investors and to respect the original spirit of the sharing economy. It's a huge win for all of us in San Diego.
Thank you for your vote and please continue to protect our neighborhoods by voting YES for the amended proposal at the 2nd reading on August 1.
---
For more information from University City Community Association about the Short Term Vacation Rental vote, visit https://www.universitycitynews.org/category/coalition-of-town-councils/
Attached is the same information in PDF form; please download and share this information with San Diego residents. Last chance to comment on STVR vote before August 1 second reading