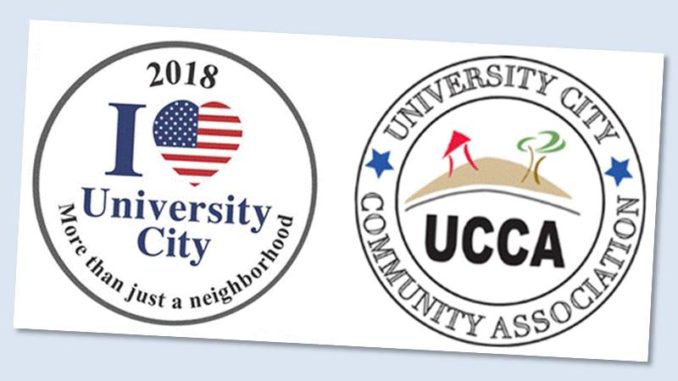 Neighbors who wish to network should arrive at the library as early as 5:30 PM when we begin our set up. Our special guests include San Diego police captain Scott Wahl, county supervisor Kristin Gaspar, and city planner Dan Monroe. Our next meeting is September 12, at 6 PM at the Community Library at 4155 Governor Drive. Refreshments will be served. Please join us; all are welcome.
University City community meetings are sponsored by University City Community Association (UCCA).
A G E N D A : (tentative)
6:00- Welcome/Pledge of Allegiance/Introductions
Approval of July minutes (vote)
Approval of agenda for tonight (vote)
6:05- President's comments-Summer activity….
(Volunteer Recognition, Sewer pipeline, (Ruth DeSantis), Miramar safety, Community Plan for U.C., other….
6:10- SD Fire/Rescue-Milliken residence/Fire season
6:15- Dan Monroe, City Planning Dept. "Community Plan" for U.C./Sept. 26 "kick-off" event. Nobel Rec. Center
6:20- Capt. Scott Wahl, SDPD-community safety / "Get it Done" app.
6:30- Representatives for our City/State/National elected officials
6:40- Guest Speaker, Kristin Gaspar, SD County Bd. of Supervisors
Q&A….CES grant update/MCAS Miramar concerns, other…..
6:55- OPEN FORUM-Request for funds,community issues,etc..
1.Oktoberfest, 2. Library, 3. Doyle Park, (vote), 4. Other….
7:00- B R E A K……B R E A K……..B R E A K….
7:10- New/Old Business:
Vice-president vacancy announcement/interim appointment
*vote to record resignation and to appoint interim vice-president
7:15- REPORTS:
1. Treasurer's report-Don
2. Membership- Hallie
3. STVR/Coalition-Mack
4. Beautification-Merle
5. Neighborhood Watch -Barbara
6. Newsletter-Don
7:30- Roundtable/Adjournment-Next Meeting, October 10th
*Thank you Sonny Sanchez, Mgr.of Coffee Bean for providing coffee/tea for tonight's meeting.
If you plan to attend and would like to speak during open forum, submit a question to one of our speakers, or suggest an agenda item, please email us directly at universitycitynews@gmail.com or use the Contact Us link at https://www.universitycitynews.org/contact-us-or-volunteer-in-uc/
For more University City news, visit https://www.universitycitynews.org/