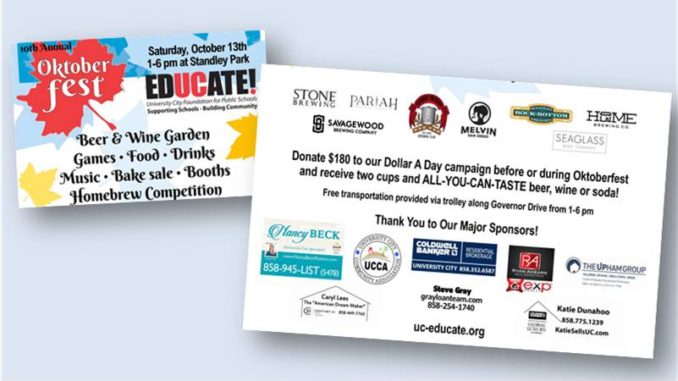 Oktoberfest Rain or Shine!
You won't want to miss this! Join us for the 10th Annual EdUCate! Oktoberfest on Saturday, October 13, 1 to 6 PM, at Standley Park at 3585 Governor Drive in University City. We will have our famous beer and wine garden, a variety of food offerings, music, booths, loads of games for the kids and more. It has become an international-German festival and we sure have lots of fun raising money for the UC public schools. When you donate a Dollar-a-Day ($180) or more, you will receive unlimited pours for two in the Oktoberfest beer garden.
Entertainment includes the sights and sounds of the UCHS and Standley Middle School Marching Bands, DJ Rick, and Rumba y Soul, which includes UCHS Band Director Brandon Corenman. And make sure to be there for the annual Principal's Challenge to see who will win the coveted crown. See you there!
The EdUCate! Foundation is a non-profit organization dedicated to supporting the five University City public schools, University City High, Standley Middle, and Curie, Doyle and Spreckels Elementary schools. Since 1993 we have funded over $1,800,000 in teacher classroom grants, principal school-wide grants, multi-school programs like the EdUCate! Math Academy and Jr Achievement BizTown, technology improvements and scholarships.
Thank You to EdUCate!'s 2018 Major Sponsors: Nancy Beck, Century 21 Award; Valerie Upham, Coldwell Banker; Steve Gray- www.grayloanteam.com; Coldwell Banker University City; Caryl Lees, Century 21 Award; and Katie Dunahoo, Coldwell Banker.
Please visit our website uc-educate.org for up to date information about EdUCate!
For related posts, visit https://www.universitycitynews.org/category/uc-cluster-schools/