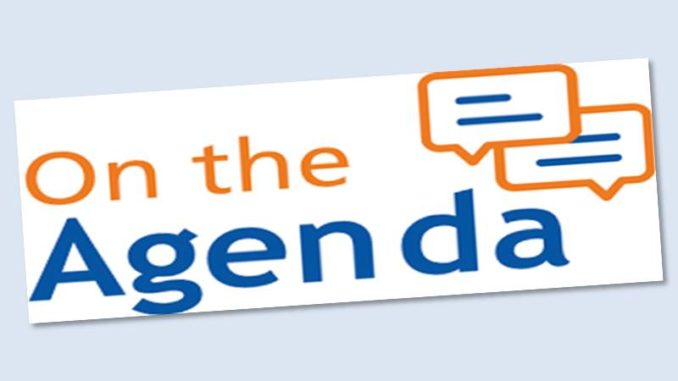 UCCA issues preliminary agenda for Wednesday, February 13, 2019, University City Community Association monthly meeting: this month's meeting will feature presentations from UCCF president Ruth DeSantis on Pure Water and from Dr. John Lee Evans, Board of Education Trustee on the "Imagine UC-2020"- Standley Park improvements including information about the new pool.
⇒ For the most current information, visit https://www.universitycitynews.org/imagine-uc-2020-sdusd-school-facilities-project/
Ongoing agenda items include updates from community and legislative representatives such as the Police and Fire departments and local elected and legislative leaders. Each meeting includes an Open Forum during which interests and concerns may be expressed.
If you have an agenda item to suggest or would like to speak during open forum, please use the Contact Us link at https://www.universitycitynews.org/contact-us-or-volunteer-in-uc/or email us at universitycitynews@gmail.com.
UNIVERSITY CITY COMMUNITY ASSOCIATION (UCCA), Wednesday, February 13, 2019, GENERAL MEETING, at the University Community Library, 4155 Governor Drive, 92122.
A G E N D A : (tentative) indicated times below are approximate
5:30 – Networking with Neighbors (while we set up)
6:00 – Welcome/Pledge of Allegiance – Introductions/comments – Barry
6:05 – Approval of January minutes (vote)
Approval of agenda (vote)
6:10 – SDPD Northern Division; SD Fire/Rescue
6:15 – Legislative representatives
6:30 – Treasurer's report, (vote to approve*) – Don
(*electronically forwarded to Board members)
Membership report- Hallie
6:35 – University City Community Plan Update
Katie Rodolico/Deanna Ratnikova
6:45 – UCCF (Improve UC) update – Pure Water/Lawsuit-Ruth DeSantis
6:55 – "Imagine UC-2020"- Standley Park Improvements Update – Dr. John Lee Evans – Board of Education Trustee/Chair
7:00 – OPEN FORUM:
San Diego County Republican Party – Anthony Episcopo
Doyle School request for jog-a-thon- Liz Smith, PTA President
UCHS Music "Showcase" request – Lesley Wilkinson
MCAS Miramar / SD County Grants/Standley Park Advisory – Diane Ahern
"U.C. Talks"- Podcast update/sample – Jemma/Don
Other….
7:15 – COMMITTEE REPORTS
– Neighborhood Watch- *membership incentive idea- Barbara G.
– Publicity/Promotion-Diane (Buy Local, other)
– Coalition of Town Councils- Mack Langston
– UCCF- Merle/Mack
7:40 – OLD BUSINESS … Adjournment
Next meeting March 13….Thank you Hallie and Barbara for our refreshments this evening.