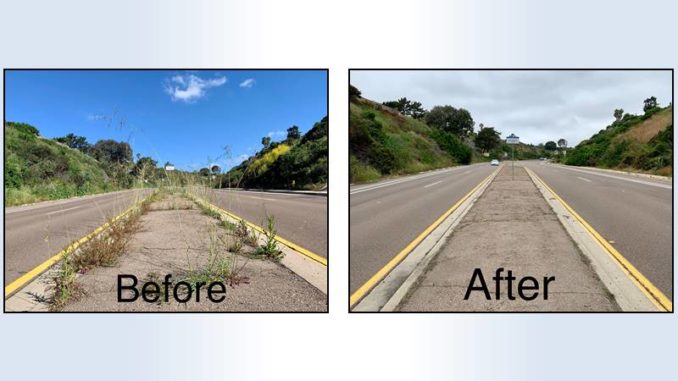 As the UCCA Treasurer I'm often asked "How is my membership money used?" Well the recent median cleanups on Regents Road and Genesee Avenue are perfect examples. Because of the recent heavy rains, weeds are now growing overhead in many of our city roadways. UCCA took the initiative to contract a cleanup crew to eliminate the unsightly weed growth in our community's entry and exit roads. Pictured are the before and after on on the Regents Road median south of Governor Drive.
The city is overwhelmed with these weeds. UCCA thought it best to take a proactive approach rather than wait in "line" to have these weeds dealt with. If you watch the Clairemont side of Regents you will see that the same weeds will continue to grow then die falling into the roadway. The city lacks resources to get to these weeds.
Your membership to UCCA makes this project and many other things possible. Such as donations to the UC Celebration, Educate, school events, Standley Park Holiday Party, Summer Concerts, median maintenance, Friends of the Library and many more. And of course, our monthly print newsletter! As always THANK YOU for making this all possible this year.
UCCA thanks its community improvement partners who help us keep our medians maintained including Our Mother of Confidence Church, UC MarketPlace (home of Round Table), La Jolla Property Management (home of Lorna's), Carl's Jr., and Chabad Center.
---
Contributed by Don Hotz, UCCA Treasurer. To learn more about UCCA's role in the University City community, visit our booth at the 4th of July UC Celebration at Standley Park; and attend our next public meeting on Wednesday, July 10, at 6 PM, at the Community Library at 4155 Governor Drive. All are welcome.
For related posts, visit https://www.universitycitynews.org/category/beautification/