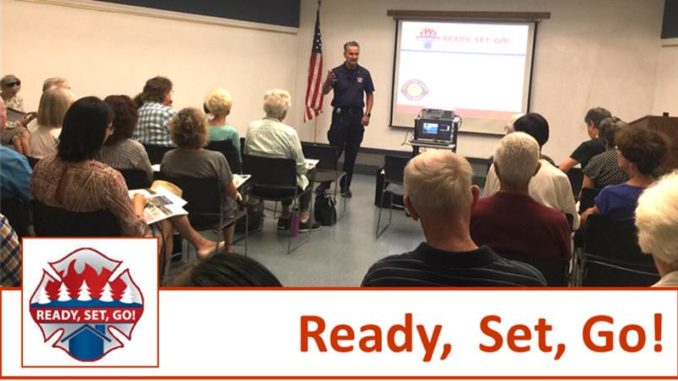 From UCCA's newsletter editor Jemma Samala: The room was packed last month at the University Community Library when Charles Butler, Code Compliance Officer SD Fire-Rescue Dept., shared a wealth of information to educate UC residents on getting ready to go when a wildfire endangers the area. A key element presented included preparing your family and home, such as having a Family Disaster Plan and preparing an emergency kit to last at least three days. Special focus was placed on creating defensible space around your home, including having tree canopies at least six feet above the ground and not over your roof.
When is it time to go? Officer Butler noted that if you hear the helicopters above announcing that residents should leave, it's probably too late. Try to determine which way the winds are blowing towards your home, and if you can see the fire five miles away -then it's time pack up and go. Embers can be carried from as far away as two/three miles. Don't forget any medications, important computers/software, and make sure you have cash and at least a half tank of gas.
Where do you go? As part of your disaster plan, have a designated place outside the fire area where your family can meet. During the evacuation discussion, it was noted that the UC area does not have a Fire Safety Council which can help determine an evacuation center in advance. UCCA members will work with Officer Butler to create a council in order to help the residents and community get ready for hopefully an incident that will never happen.
If you would like to get involved in helping UC set up a Fire Safety Council, contact jemmasamala@gmail.com.
To download a Wildland Fire Action Guide, Red Flag Warning brochures, and look at real time wildfire info, go to https://www.wildlandfirersg.org/ and look under the Explore/Resources and Tools tab.
Ready – Be fire-adapted and ready! Take personal responsibility and prepare long before the threat of a wildland fire so your home is ready in case of a fire. Create defensible space by clearing brush away from your home. Use fire-resistant landscaping and harden your home with fire-safe construction measures. Assemble emergency supplies and belongings in a safe place. Plan escape routes and make sure all those residing within the home know the plan of action.
Set – Situational awareness! Pack your emergency items. Stay aware of the latest news and information on the fire from local media, your local fire department and public safety.
Go – Act early! Follow your personal wildland fire action plan. Doing so will not only support your safety, but will allow firefighters to best maneuver resources to combat the fire.
For related posts, visit https://www.universitycitynews.org/category/sdfd/