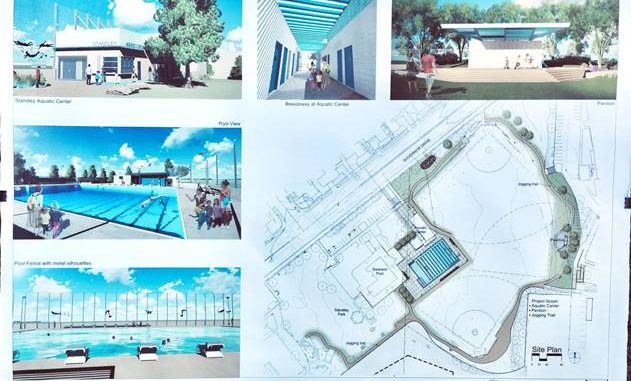 October 2019 update courtesy of Dr. John Lee Evans, SD Unified School District Trustee: Imagine UC 2020 is moving ahead. We displayed the attached graphics at Oktoberfest 2019. Then on October 15, 2019, city and school district negotiators worked out final details of the joint use agreement for Standley Park. It has already been approved by the school board and now needs official approval of the agreement by City Council. We hope that it will be placed on the council agenda soon.
In the joint use agreement the school district contributes the capital funds for construction and the city provides the operational funds. Once it is approved by City Council the project can be put up for bid and construction can begin in 2020.
The full project includes an Aquatic Center with a new competition- size pool alongside the current pool. It will be available for swim team and water polo, as well as for instruction in PE classes. Both pools will be available to the public when not being used by the schools.
Additionally, there will be a jogging path around the perimeter of the park, a stage/pavilion for community events and an added grass field next to Spreckels. Eventually there will be an additional parking and drop off area at the front of Spreckels that will also be used on weekends for parking at the park.
Special thanks to committee members Barry Bernstein, Sandy Lippe and Greg Zinser who have been working with me to make this community project a reality. It looks like we will be able to make our 2020 target date.
---
For more information, visit the SDUSD School Facilities Projects Page for Standley Middle School at https://fpcprojects.sandi.net/Pages/Reports.aspx?SchoolName=9325
For related information from UCCA, visit https://www.universitycitynews.org/category/imagine-uc-2020/
Join UCCA Today! at https://www.universitycitynews.org/join-ucca-today/