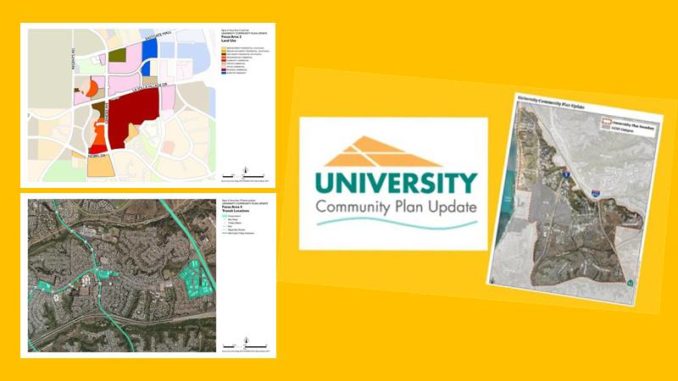 From Dan Monroe, Senior Planner: On this agenda this month – Land Use Focus Area Maps; Mobility; and Urban Design Principals. Please join us for the University Community Plan Update Subcommittee Meeting on Tuesday, November 19, 2019 at 6:00 pm, at University City High School Media Center/Library, 6949 Genesee Avenue, San Diego, CA 92122. Visit our website for more information and to stay connected with the University Community Plan Update at www.planuniversity.org.
Agenda Summary and Focus Area Map images available below; download the meeting agenda and background material (including PDF of Focus Area Maps) by visiting the subcommittee's web-page at https://www.sandiego.gov/planning/community/cpu/university/subcommittee-university-documents.
6:00 CALL TO ORDER / ROLL CALL BY CHAIR: Andy Wiese
NON-AGENDA PUBLIC COMMENT: Two minutes per speaker.
6:20 Item 1 INFO ITEM – Land Use Focus Area Maps (review images below; also available in PDF format through subcommittee's web-page): City staff will review the focus areas maps with additional areas and layers recommended at the October 15, 2019, CPUS meeting. These maps identify areas for potential land use changes within the community. Presenters: Katie Witherspoon & Dan Monroe
6:35 Item 2 INFO ITEM – July 16, 2019 CPUS Mobility Activity Summary: City staff will provide a summary of the feedback received as well as the findings from the mobility activity held at the July CPUS meeting. This information will be used to help inform the development of the future circulation network for the University CPU. Presenters: Katie Witherspoon & Dan Monroe
7:00 Item 3 INFO ITEM – Urban Design Principles: University CPU consultant team will provide an introduction and overview of urban design principles as they relate to the public realm and place making. This is the first of three meetings related to urban design to inform the process of preparing land use within the four focus areas. Presenters: Brad Lents (Spurlock Landscape Architects) & Diego Velasquez (City Thinkers)
8:30 ADJOURNMENT: NO MEETING IN DECEMBER. Next Meeting – January 21 at University City High School – Media Center/Library, 6949 Genesee Avenue, San Diego, CA 92122