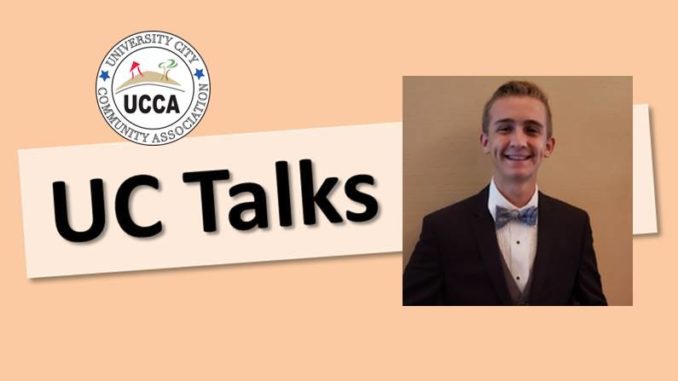 Take a listen as podcast host Jemma Samala sits down with Zachary Patterson. He was recently elected as the first student board member for the San Diego Unified School District. We enjoy a nice conversation with him about the new position, his priorities in this role, and balancing the new workload with schoolwork. It's not easy. But this elected position will likely be the first of many more to come.
Listen on UCCA's SoundCloud channel at https://soundcloud.com/ucca-785209867/zachary-patterson-sdusd
For access to all UC Talks podcasts, including University City songs created by Tom Ventimiglia and Greg Zinser, visit the UC Talks homepage at https://soundcloud.com/ucca-785209867
---
UC Talks is a hyper-local podcast that features conversations, interviews, and news of University City. It's managed by the University City Community Association (UCCA). To submit an idea for an upcoming podcast, please use the contact us link on UCCA's University City News at www.univeritycitynews.org/ 'contact us' link or email us at universitycitynews@gmail.com. Suggestions are welcomed. We are here to serve the community because University City… is more than just a neighborhood.
For more information about UC Talks podcasts, visit the UC Talks podcast archives page at https://www.universitycitynews.org/category/uc-talks-podcast/