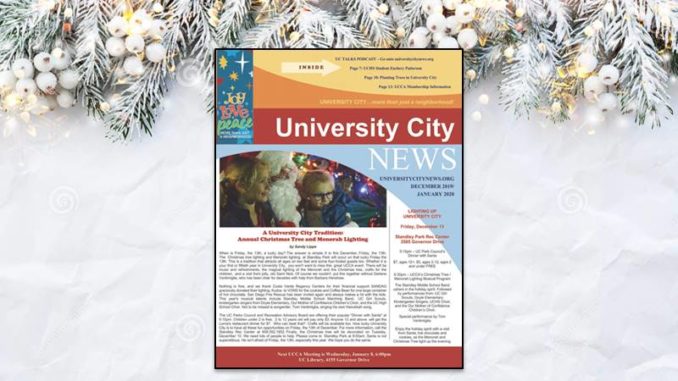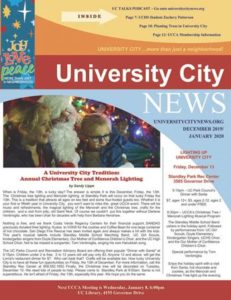 From UCCA President Barry Bernstein: Happy Holidays to University City. December is here, and our families are getting ready for the Christmas, Hanukkah, and Kwanzaa celebrations this month after eating plenty of Thanksgiving turkey. Travel plans are in order for some as our school vacation and work schedules may allow.
UCCA hopes you'll be able to attend and enjoy our planned Friday, December 13, Christmas Tree/Menorah Lighting event at Standley Park. This annual tradition is something for all UC families to enjoy. Our Park Council's "Dinner with Santa" starts at 5:15, followed by UCCA's evening program of holiday music with the Standley Middle School marching band starting off the event at 6:30, and the program ending with the lighting of the Christmas Tree, a special visit with Santa Claus for the little ones, and lots of hot chocolate and cookies for everyone.
Glad the SDSU Aztecs are having another great year on the gridiron and will be eligible for a "bowl-game". At UCSD and USD, their men and women's athletic teams are also having great success this Fall in their respective conferences. Congratulations to all of them.
Just in … U.C. High's Marching Band and Color Guard just won first place in the Southern California High School competition. Congratulations Centurions! Refer to the print newsletter for more information and a picture.
MCAS Miramar will be expecting the first contingent of F-35's in January/February. UCCA and CASA have been doing just about everything within their power to initiate discussions with the command at Miramar to provide some sort of oversight/monitoring of the anticipated affect these aircraft may have on the lives of all University City residents. The Marines and FAA continue to be resistant, and in my opinion, our popular Congressman Scott Peters has not, and is not, representing us well in this one issue.
I hope everyone reading this column who may not have already joined UCCA for 2020, will do so. We need and appreciate your support. UCCA's next regularly scheduled meeting is Wednesday, January 8, (UCCA, along with UCPG/CPUS do not have regularly scheduled meetings in December), and we have scheduled as guest speakers, Cory Briggs, candidate for City Attorney, and James Rudolph, candidate for City Council. Please join us. Primary elections are March 3 this election year.
UCCA held elections for officers last month for two-year terms. Thank you for your support and confidence in re-electing me to continue as president, and Mark Langston ad vice-president, Don Hotz as treasurer, and James Beshears as our first-time recording secretary; we are your UCCA executive board members.
Merry Christmas and Happy Hanukkah…and of course, my best wishes to everyone for a most happy and safe New Year. And don't forget to join UCCA … because University City is "more than just a neighborhood". ~Barry
---
The PDF version of the December 2019 January 2020 University City News is online now; and print versions will be available at the Recreation Center and Library on Governor Drive as of Friday afternoon, December 6. Print newsletters are delivered to homes and businesses in the University City area beginning Saturday, December 7, 2019.
Download and read the current December/January issue as well as past issues on our newsletter archives page at https://www.universitycitynews.org/ucca-newsletter-archives/
For related posts, visit https://www.universitycitynews.org/category/newsletter/
Or read it as a FlipBook below: