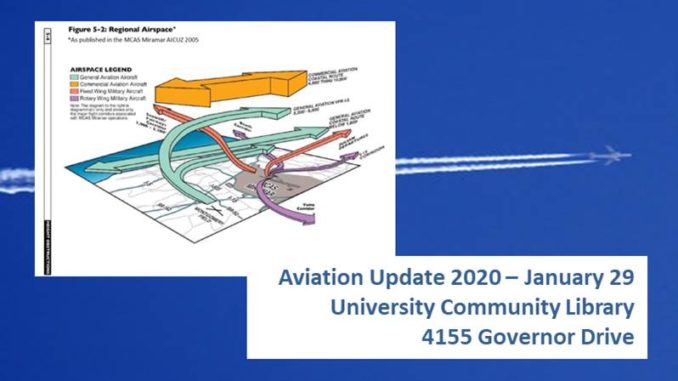 UCCA's Citizens Advocating Safe Aviation (CASA) committee is coordinating an Aviation Update 2020 information session at the University Community Library, 4155 Governor Drive, from 6 PM to 7:30 PM on Wednesday, January 29, 2020. Those interested in networking are welcome to join us as early as 5:30 PM.
Speakers include representatives from:
MCAS Miramar,
Quiet Skies La Jolla,
San Diego International Airport (SAN),
Montgomery-Gibbs Airport,
Montgomery Gibbs Environmental Coalition,
Citizens Advocating Safe Aviation,
(invited) Federal Aviation Administration,
(invited) General Atomics.
Distinguished guests include:
City Councilmember Barbara Bry's office,
UC San Diego (UCSD),
County Supervisor Kristin Gaspar's office,
US Congress Representative Scott Peters's office.
The format of Aviation Update 2020 will be similar to a community plan meeting with an open forum non-agenda comment period (limit 2 minutes each). Then each presenter will have up to 10 minutes to speak on their topic. We will hold all questions to the end. Each speaker is asked to prepare a one page information sheet. This will not be a debate; this is an information session.
University City is located at the crossroads of aviation traffic. Residents experience local flights arriving and departing from San Diego International, Montgomery-Gibbs, Gillespie Field and MCAS Miramar airports on a daily basis as well as countless trans-regional, trans-continental flights, and international flights.
San Diego International Airport has plans to rebuild Terminal 1 to accommodate greater numbers of passengers, Montgomery-Gibbs Airport has plans to increase capacity, and the FAA is implementing its NextGen plan for the redesign of airspace. MCAS Miramar is expecting a new air-frame (the single engine F-35C) and is in the process of updating their Airport Installation Compatibility Use Zone (AICUZ) document. In addition, University City is undergoing a community plan update; and the UCSD and University City student, resident and employee populations are growing rapidly. There is a lot going on — both on the ground and in the air. All the more reason for an Aviation Update 2020 information session.
The full agenda and speaker list will be posted on the University City News sites prior to the January 29, 2020 Aviation Update 2020 information session. Community members who would like more information or who have a topic to suggest may contact the event planner Diane Ahern through CASA's email at citizensadvocatingsafeaviation@gmail.com
Draft flyer in PDF form (dated 1/8/2020) available for download at Aviation Update 2020 – January 29 2020
---
Diane Ahern is a volunteer and University City Community Association's publicity and promotions chair. She is the liaison to Citizens Advocating Safe Aviation and to MCAS Miramar Community Leaders Forum.