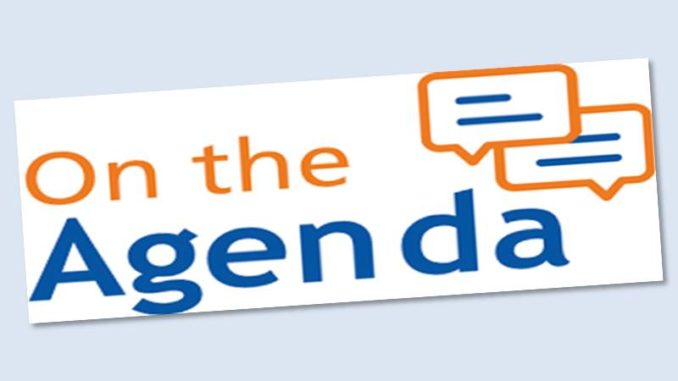 On Wednesday, January 8, 2020, UCCA hosts Neighbor Networking at 5:30, community meeting at 6 PM. All are welcome. Please join us. We meet at the Community Library at 4155 Governor Drive. Ongoing agenda items include updates from community and legislative representatives such as the Police and Fire departments and local elected and legislative leaders. Each meeting includes an Open Forum during which interests and concerns of community members may be expressed. The preliminary agenda for the January 8 meeting is below. If you have an agenda item to suggest or would like to speak during open forum, please use the Contact Us link at https://www.universitycitynews.org/contact-us-or-volunteer-in-uc/or email us at universitycitynews@gmail.com.
UNIVERSITY CITY COMMUNITY ASSOCIATION JANUARY 8, 2020 AT THE COMMUNITY LIBRARY ON GOVERNOR
A G E N D A:   (TENTATIVE)
6:00- MEETING CALLED TO ORDER, WELCOME
PLEDGE OF ALLEGIANCE/PRESIDENT'S REMARKS
6:10- APPROVAL OF NOVEMBER/DEC. MINUTES (VOTE)
APPROVAL OF AGENDA (VOTE)
6:15- INTRODUCTION OF CANDIDATES
             James Rudolph, City Council candidate (5-8 minutes)
             Cory Briggs, S.D. City Attorney candidate 95-8 minutes)
6:30- OPEN FORUM/SPEAKERS:
              Todd Lane, CEO CA. Coast Credit Union
              Janay Kruger, Trees 1,000 Foundation
              Charles Butler- SD Fire/Brush Mgt.-La Jolla Avia (tentative)
              SDPD Community Officer Melanie Bognudo-
               "The Park" graffiti, SDPD survey, other …
               Aviation Update- 1/29/2020- Diane Ahern
               Fire/Safe Council- 1/28/2020-Jemma Samala
6:40- 7:00- Legislative liaisons
7:10- Treasurer's Report, Don Hotz (vote)./Membership-Hallie Burch
7:15 -7:45- COMMITTEE REPORTS:
               NEIGHBORHOOD WATCH= BARBARA GELLMAN
               BEAUTIFICATION- ARTIST'S CONCERN AT THE
               LIBRARY ELECTRICAL BOX-MERLE/BARBARA
               2020 SD COUNTY GRANTS- DIANE
               NEWSLETTER COMMITTEE-DON
               OTHER….
ADJOURNMENT—-NEXT MEETING FEBRUARY 12
*THANK YOU DEANNA FOR TONIGHT'S REFRESHMENTS