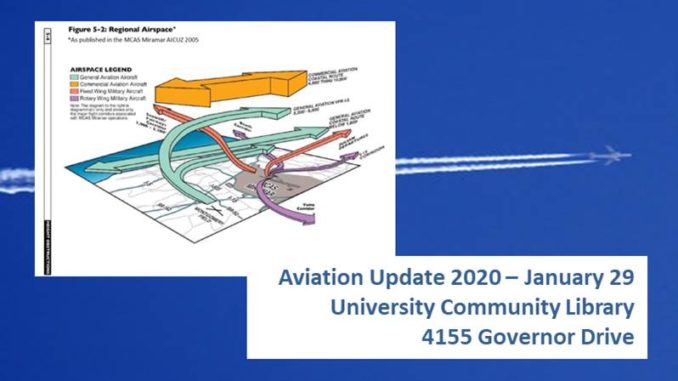 UCCA's Citizens Advocating Safe Aviation (CASA) committee is proud to coordinate an Aviation Update 2020 information session at the University Community Library, 4155 Governor Drive, from 6 PM to 7:30 PM on Wednesday, January 29, 2020. Those interested in networking are welcome to join us as early as 5:30 PM.
Event Goals: Aviation Update 2020 is a community information session focused on the University City area that provides information about current and future aviation-related projects and programs that affect residents, workers, visitors and students. Attendees will gain knowledge and resources and have the opportunity to network and make connections.
Background: University City is located at the crossroads of aviation traffic. Residents experience local flights arriving and departing from San Diego International, Montgomery-Gibbs, Gillespie Field and MCAS Miramar airports on a daily basis as well as countless trans-regional, trans-continental flights, and international flights. San Diego International Airport has plans to rebuild Terminal 1 to accommodate greater numbers of passengers, Montgomery-Gibbs Airport has plans to increase capacity, and the FAA is implementing its NextGen plan for the redesign of airspace. MCAS Miramar is expecting a new air-frame (the single engine F-35C) and is in the process of updating their Airport Installation Compatibility Use Zone (AICUZ) document. In addition, University City is undergoing a community plan update; and the UCSD and University City student, resident and employee populations are growing rapidly. There is a lot going on — both on the ground and in the air. All the more reason for an Aviation Update 2020 information session.
Tentative Agenda:
6PM – Call to Order
1. Opening Remarks – Event Coordinator – Diane Ahern (5 minutes)
2. Opening Remarks – UCCA President – Barry Bernstein (3 minutes)
3. Non-agenda public announcements – (2 minutes)
4. FAA – NextGen and the Redesign of SoCal Airspace – invited (10 minutes)
5. San Diego International Airport Lindbergh Field – Brendan Reed (10 minutes)
6. Quiet Skies La Jolla – Anthony Stiegler (10 minutes)
7. Montgomery-Gibbs Airport – Jorge Rubio (10 minutes)
8. Montgomery Gibbs Environmental Coalition – Sandra Stahl (10 minutes)
9. MCAS Miramar – Kristin Camper (10 minutes)
10. Citizens Advocating Safe Aviation – Ron Belanger (10 minutes)
11. Speaker final remarks – 1 minute each (10 minutes)
12. Legislative/distinguished guest comments – 1 minute each (10 minutes)
13. Public comments and questions (until 7:50 PM)
7:50 PM – Adjourn
Legislative and distinguished guests include:
• City Councilmember Barbara Bry's office
• UC San Diego (UCSD)
• County Supervisor Kristin Gaspar's office
• US Congress Representative Scott Peters's office
• UCCA President Barry Bernstein
• Library Manager Melissa Martin
• Others?
---
Diane Ahern is a volunteer and University City Community Association's publicity and promotions chair. She is the liaison to Citizens Advocating Safe Aviation and to MCAS Miramar Community Leaders Forum.