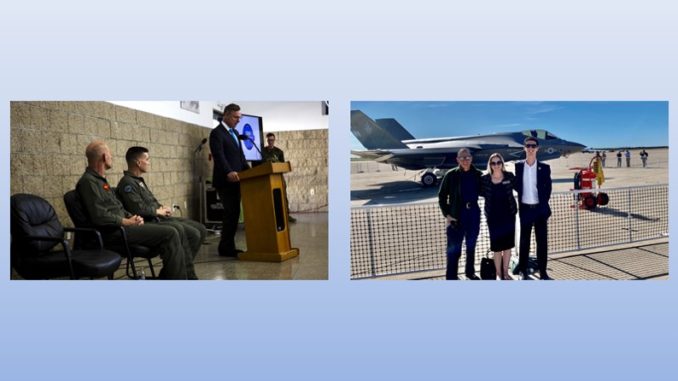 UCCA's Diane Ahern and CASA's Ron Belanger attended an F-35 Introduction Brief for Civic Leaders at MCAS Miramar in January. Major Gen. Kevin M. Iiams (left), Col. Charles B. Dockery, and U.S. Rep. Scott Peters spoke at the brief to introduce the F-35C Lightning II. Ron Belanger (left), Justine Murray of Councilmember Barbara Bry's office, and Miller Saltzman of State Senator Toni Atkins' office visited the flight line to view the F-35C on display. The F-35C is capable of landing on aircraft carriers and will eventually replace the aging F-18 aircraft at Miramar. This report was filed by Diane Ahern.
Major General Kevin M. Iiams, Commanding General, Third Marine Aircraft Wing, provided an overview of the capabilities of the F-35C and its strategic importance to national security and to the Marine Corps. He also mentioned that the F-35C is used by both Navy and Marine pilots and this will enhance the relationship between the Navy and the Marine Corps.
Colonel Charles Dockery, Commanding Officer, MCAS Miramar, provided an overview of the soon-to-be released AICUZ (Air Installation Compatibility Use Zones) document. He emphasized that the AICUZ is a DoD document that helps to ensure that development does not occur in areas adjacent to MCAS Miramar that could encroach on training and on national security.
Congressman Scott Peters, representing the 52nd District, emphasized his long-standing support of the F-35 aircraft at MCAS Miramar. He also mentioned there is need for continued improvements in the relationships between MCAS Miramar and residents in the surrounding community.
---
@MCASMiramarCA Facebook video livestream of F-35 Introduction Brief:  https://www.facebook.com/MCASMiramarCA/videos/114258480002648/
DVIDS — 3rd MAW, MCAS Miramar host F-35 Lightning II Introduction Brief for Civic Leaders to introduce the U.S. Marine Corps' F-35C Lightning II at MCAS Miramar on Jan. 31, 2020: https://www.dvidshub.net/image/6063357/3rd-maw-mcas-miramar-host-f-35-lightning-ii-town-hall
---
In other aviation safety news, Congressman Scott Peters, representing the 52nd District, issued the following statement to the University City community related to the Aviation Update 2020 meeting held on January 29, 2020. Due to time constraints, community representative Jessica Brown [Jessica.Brown@mail.house.gov] was not able to read this statement from Congressman Peters:
"Thank you for inviting a representative from my office to attend this important event tonight. I have been, and continue to be, concerned for the safety and quality of life of all residents of University City. As you know, I have met with members of the community, the FAA, and MCAS Miramar leadership to facilitate open communication on this issue. Earlier this month, at my request, Colonel Dockery, the commanding officer of MCAS Miramar, briefed me in my office on recent MCAS Miramar operations and the integration of the F-35. I asked that he ensure pilots, whether stationed at Miramar or visiting from other bases, are briefed on and adhere to aviation course rules, and he reaffirmed his commitment to doing so. I will also be meeting with TRACON [Air Traffic Control; provides Terminal Radar Air Traffic Approach CONtrol] for an update. I will continue to communicate with the FAA and the Marines to ensure that aviation safety is always a priority as they complete their national security objectives. Thank you for your continued engagement as a community."
For more information about Aviation Update 2020, visit https://www.universitycitynews.org/2020/02/04/whats-up-in-our-skies-aviation-update-2020-presentation-opens-up-our-eyes-about-our-skies/