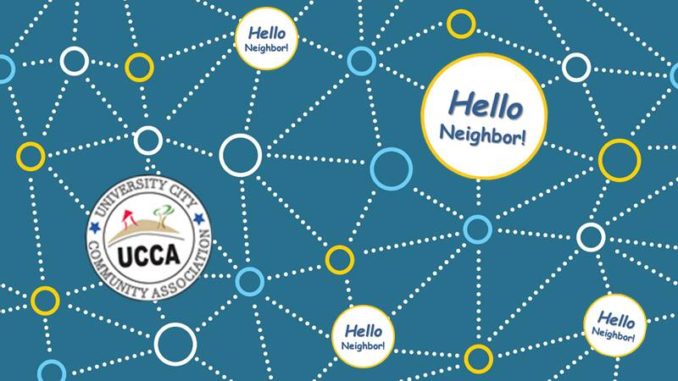 On Wednesday, February 12, 2020, UCCA hosts Neighbor Networking at 5:30, community meeting at 6 PM. All are welcome. Please join us. We meet at the Community Library at 4155 Governor Drive. Ongoing agenda items include updates from community and legislative representatives such as the Police and Fire departments and local elected and legislative leaders. Each meeting includes an Open Forum during which interests and concerns of community members may be expressed. The preliminary agenda for the February 12 meeting is below. If you have an agenda item to suggest or would like to speak during open forum, please use the Contact Us link at https://www.universitycitynews.org/contact-us-or-volunteer-in-uc/or email us at universitycitynews@gmail.com.
UNIVERSITY CITY COMMUNITY ASSOCIATION, FEBRUARY 12, 2020, GENERAL MEETING, University Community Library, 4155 Governor Drive, San Diego, CA 92122
A G E N D A (Preliminary)
6:00 Meeting called to order- Welcome, Pledge of Allegiance
6:05: Approval of January minutes (vote)
Approval of agenda (vote)
6:10- President's remarks/general information
6:15- Introduction of guests: (maximum of five (5) minutes/speaker
Phoebe Truong – UCHS student leader and committee
CANDIDATES FOR ELECTED OFFICE:
Sam Nejabat – City Council District 1
Ryan Cunningham – 52nd Congressional District
Sabrina Bazzo – SD City Schools Board of Education
6:40- Legislative community representatives-City/County/State/National
6::55- OPEN FORUM:/NEW BUSINESS/OLD BUSINESS (3-5 minutes)
• Chris Ward – Candidate CA State Assembly
• Doyle Elementary School- $500 request -jog a thon (Vote)
• Ruth Desantis – UCCF "owls"/ settlement, other….
• Chris Nielsen – UCPG Elections, Miramar Landfill update, golf course on Gullstrand, and other …..
• Katie Rodolico – CPU – January meeting report
7:20- Break…….
7:25- Reconvene -Special Reports/Committee News/Information Items
• Treasurer's Report – Don Hotz
• Membership – Hallie Burch
• SD County Grants/Aviation Forum update – Diane Ahern
• Discussion items – political speaker policy, general allotment of time on agenda for needed discussion,
7:45- Adjournment – Next UCCA meeting March 11, 2020
*Thank you Jim and Ellen Beshears for tonight's refreshments.
Don't forget to vote in Primary Election March 3, 2020