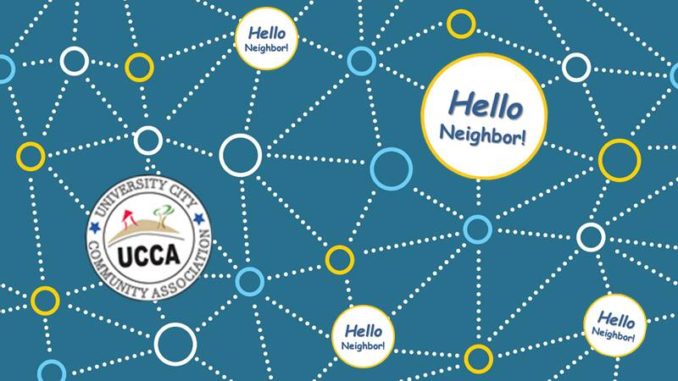 On Wednesday, March 11, 2020, UCCA hosts Neighbor Networking at 5:30, community meeting at 6 PM. All are welcome. Please join us. We meet at the Community Library at 4155 Governor Drive. Ongoing agenda items include updates from community and legislative representatives such as the Police and Fire departments and local elected and legislative leaders. Each meeting includes an Open Forum during which interests and concerns of community members may be expressed. The preliminary agenda for this month's meeting is below. Subject to change without notice. If you have an agenda item to suggest or would like to speak during open forum, please use the Contact Us link at https://www.universitycitynews.org/contact-us-or-volunteer-in-uc/or email us at universitycitynews@gmail.com.
---
UNIVERSITY CITY COMMUNITY ASSOCIATION, MARCH 11, 2020 —6:00 P.M. call to order.
A G E N D A: (preliminary)
6:00- WELCOME/PLEDGE OF ALLEGIANCE; PRESIDENT'S REMARKS/INTRODUCTIONS
6:05- APPROVAL OF FEBRUARY MINUTES (VOTE); APPROVAL OF AGENDA (VOTE)
6:08 – SDPD- OFFICER BOGNUDA
SD FIRE/RESCUE-TBD * FIRE/SAFE COUNCIL
6:15-6:30- SPECIAL PRESENTATION – BETH BINGER/DAVID MCCOLLOUGH – representing WILLMARK COMMUNITIES – AVIA LA JOLLA (re construction and golf course on Gullstrand south of Governor)
6:30 – LEGISLATIVE REPRESENTATIVES (3 MINUTES)
Justine Murray of Councilmember Bry's office is expected to provide an update about the Miramar Landfill vertical expansion.
6:45- OPEN FORUM – (SPEAKERS HAVE 3-5 MINUTES)
MARK SALATA- EDUCATE PRESIDENT-REQUEST – FOR TASTE OF THE TRIANGLE SPONSORSHIP
BARBARA GELLMAN- NEIGHBORHOOD WATCH
DIANE AHERN- C.A.S.A./COUNTY GRANTS/BANNERS
CHRIS NIELSEN-UCPG CHAIR-UPDATES/ELECTIONS
C.P.U.S.- KATIE RODOLICO
OTHER…….
7:00- B R E A K……..B R E A K ……..B R E A K……..
UCCF LIAISON CHANGE- VOTE TO APPROVE – MERLE LANGSTON TO REPLACE MACK LANGSTON.
UCCA CANDIDATE FORUM-VOTE TO APPROVE CO-SPONSORING WITH SD. LEAGUE OF WOMEN VOTERS.
VOTE TO APPROVE CHANGE NEXT MEETING DATE TO APRIL 15, 2020
7:15- MEMBERSHIP REPORT-HALLIE
7:18- TREASURER'S REPORT- DON HOTZ (VOTE)
7:20-7:30- COMMITTEE REPORTS:
PUBLICITY/PROMOTION-DIANE AHERN
NEWSLETTER- DON HOTZ
UCCF-MERLE LANGSTON
UCSD- DEANNA RATNIKOVA
TOWN COUNCIL UPDATE-MACK LANGSTON
7:40- ADJOURNMENT- NEXT MEETING APRIL 15, 2020
*THANK YOU MACK FOR TONIGHT'S REFRESHMENTS
---
For information related to the Golf Course on Gullstrand south of Governor, visit https://www.universitycitynews.org/2020/01/25/10news-residents-question-why-fairway-and-surrounding-habitat-have-been-removed-at-local-golf-course/