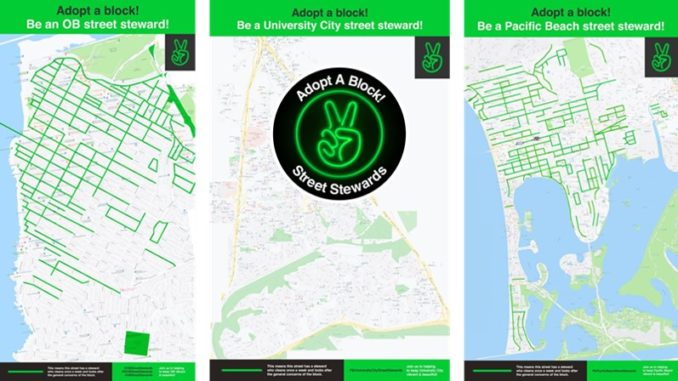 Contributed by Diane Ahern: This information came in recently through UCCA's Facebook page from Aaron Null, the founder and driving force behind Street Stewards, a group of volunteers who clean up neighborhoods block by block. Given its success in communities such as Ocean Beach, Pacific Beach, North Park, and Point Loma, Street Stewards has created a University City map and would like to invite residents to participate. The idea is simple: adopt a street or two around your home and go out about once a week to clean your block.
There are currently three ways to Adopt a Block:
"Like" the University City Street Stewards Facebook page at www.facebook.com/UniversityCityStreetStewards and add a comment to let Aaron know you'd like to adopt your street; don't forget to include the name of your street.
Fill out the sign-up form on the Street Stewards website at https://streetstewards.com/ 
Send an email directly to Street Stewards at streetstewards@gmail.com with name, email, and address.
Disclaimer: UCCA is providing information to the community; this activity is not endorsed or sponsored by UCCA. It's up to you (or any resident) to decide to adopt a street for cleanup (or not).
Personally, I think it's a very good idea … and I've volunteered to clean up my block in University City. In this time of social distancing, it's a nice way to walk outside with a family member and do some neighborhood cleanup. And please be sure to wash your hands before you go back inside.
For more information, visit the Street Stewards website at https://streetstewards.com/ 
---
For similar posts from UCCA, visit https://www.universitycitynews.org/category/beautification/