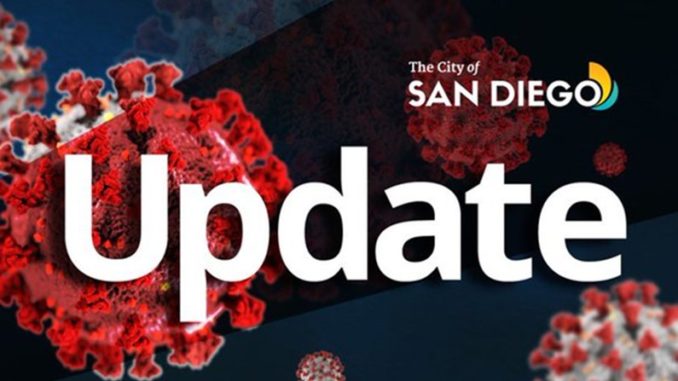 As published on March 30, 2020: Continuing the aggressive approach to protect public safety and provide relief to San Diegans amid COVID-19, today Mayor Kevin L. Faulconer issued an executive order declaring all City of San Diego employees as disaster service workers. The order also directed other actions including streamlining medical supply delivery, extending building permits and waiving fees.
Joined by San Diego Police Department Chief David Nisleit, Fire-Rescue Chief Colin Stowell and Lifeguard Division Chief James Gartland, Mayor Faulconer discussed how the actions in the PDF icon executive order better position City employees to mobilize in the fight against COVID-19.
"This declaration is a proactive step that will give the City of San Diego the flexibility and capability to support the response to the coronavirus in our community," said Mayor Kevin Faulconer. "It's all hands on deck because it takes all of us to fight this virus, and that includes the City's dedicated public servants."
Today's executive order expands on the previous order issued on March 16, 2020 and goes into effect at 11:59 p.m. tonight and will continue through April 30, 2020, unless extended.
---
That's an excerpt; to read the entire press release and for more information, visit https://www.sandiego.gov/
For a related report from NBC7, visit Executive Order Allows SD City Employees New Roles in Coronavirus Fight at https://www.nbcsandiego.com/news/local/executive-order-allows-sd-city-employees-new-roles-in-coronavirus-fight/2296396/