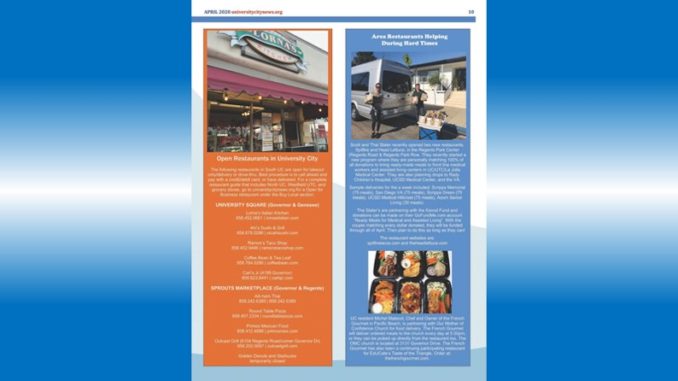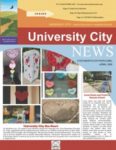 As featured on page 10 in the April 2020 University City News : Editor Jemma Samala has compiled a list of carry out restaurants and food options, Councilmember Bry's grocery store hours for those at risk, and more from EdUCate's Taste of the Triangle, Westfield UTC, and north Clairemont.
University City options on Governor Drive include:
UNIVERSITY SQUARE (Governor & Genesee)
Ahi's Sushi & Grill | 858.678.0286 | utcahisushi.com
Carl's Jr (4199 Governor) | 858.623.8441 | carlsjr.com
Coffee Bean & Tea Leaf | 858.784.0286 | coffeebean.com
Golden Donuts | temporarily closed
Lorna's Italian Kitchen | 858.452.0661 | lornasitalian.com
Ramon's Taco Shop | 858.452.9446 | ramonstacoshop.com
SPROUTS UC MARKETPLACE (Governor & Regents)
AA-harn Thai | 858.242.6389 | 858.242.6389
Outcast Grill (6104 Regents Road/corner Governor Dr) | 858.202.0097 | outcastgrill.com
Primos Mexican Food | 858.412.4688 | primosmex.com
Round Table Pizza | 858.457.2334 | roundtablepizza.com
Starbucks | temporarily closed

---
Please keep in mind that most of our local grocery stores have prepared foods to go. For hours of operation and a restaurant guide that includes North UC, Westfield UTC, and grocery stores, click on the Open for Business link. Please feel free to send Jemma updates at uccaeditor@gmail.com. She promises to keep updating the information while COVID-19 restrictions are in place. Link to Google Docs : Open for Business – List and Information compiled by Jemma Samala
---
Please note: Due to COVID-19 restrictions, there is no home delivery of the April 2020 University City News newsletter. A limited number of print copies are available for pick-up at the 'back door' parking lot of the University Community Library at 4155 Governor Drive and in many of the "Little Free Libraries" in University City.