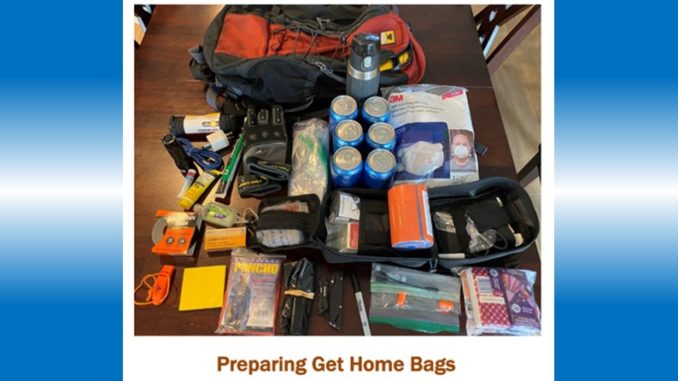 ---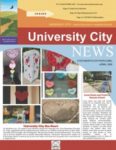 As featured on page 12 of the April 2020 University City News : J Smith, Fire Safe Council of University City South member, has put together emergency kits for each of his cars. He's sharing his bag and list, pictured above, with the community. His list is below and is an excellent guide for your own "get home" bags for each car, which you can adjust to your own needs:
Water: six aluminum cans, empty water bottle
Food: granola energy bars, nuts, beef jerky
Hygiene: baby wipes, hand sanitizer, tampons/pads, toilet paper
Illumination: headlamp, flashlight, chem light on string
Storage: ziplock bags (small/large), extra small foldable bag, carabiners, long zip ties
Clothing: hat (wide brimmed), socks, rain poncho, facemask
Electronics: phone, headphones, dongle, lightning cable
Printed Items: local map, contact phone numbers, pictures of each family member and pets, printed list of items in "get home" bag
First Aid: Band Aids (small, large, knuckle), gauze (patch and roll), wound closure strips, blister bandages, moleskin, scissors, tourniquet, medical tape, eyewash, alcohol or iodine pads, burn gel, antibiotic ointment, two pairs nitrile gloves, CPR barrier, tweezers, bandana, prescription and pain meds, tiny medical guide
Misc: sunscreen, lip balm, P100 smoke masks (4), gloves, whistle, matches/tinder source, pole saw, notepad/super post-its, multi tool, pocket knife, large survival blade, gorilla tape, cash ($100), 550 paracord (50 ft), crank power radio/usb charger (charge/test), survival blanket, air tight safety goggles
---
For more information from the Fire Safe Council of UC South, please refer to the April 2020 University City News.
Please note: Due to COVID-19 restrictions, there is no home delivery of the April 2020 University City News newsletter. A limited number of print copies are available for pick-up at the 'back door' parking lot of the University Community Library at 4155 Governor Drive and in many of the "Little Free Libraries" in University City.