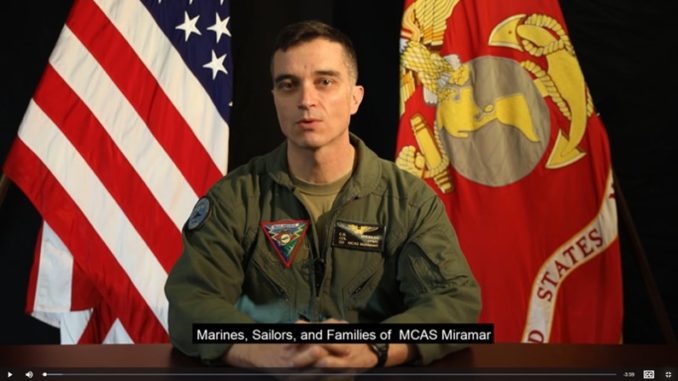 From MCAS Miramar Commanding Officer Colonel Charles Dockery: I would like to take this opportunity to let you know of the mitigation measures Marine Corps Air Station Miramar is taking during the CoVID-19 outbreak. As a large military installation within the City of San Diego, it is important that I communicate what we are doing on-base to protect the health of the local community and those who live, work, and play aboard the air station while we continue to provide national defense.
As part of the critical federal infrastructure, I have a duty to maintain our critical capabilities. MCAS Miramar is one of the largest and most capable air transport facilities in the Department of Defense and I want to ensure that we can meet our national defense mission and also assist local, state, and federal governments if asked.
I have directed those who work in my command to maximize their telework capability and work from home as much as possible. A number of Marines, Sailors, and civilians, many of whom live off-station, still need to be physically present to serve essential functions on the base. They understand that the statewide "Stay-at-Home" order pertains to them and they should only be leaving home to go to work or to take care of their own essential needs.
Some of the actions I have already taken on-base include closing gyms and other non-essential facilities. Food service is still available on base with modified serving measures. The commissary will remain open with controls in place to ensure appropriate social distancing. We have reduced the throughput at our rifle and pistol ranges to ensure social distancing while ensuring our Marines remain ready. These preventative measures are in place alongside the County of San Diego's own measures, and we attempt to mirror the effective steps they take as we all move forward together.
Finally, I appreciate the support of the San Diego community and I know that we will get through this challenging time. It's clearly evident that San Diego has, and continues to do its part bending the CoVID-19 curve and MCAS Miramar will continue to do the same. We are fortunate to be your neighbors.
For more information and to view the MCAS Miramar COVID-19 public service announcement (PSA), visit www.miramar.marines.mil
For related posts from UCCA, visit https://www.universitycitynews.org/category/miramar/