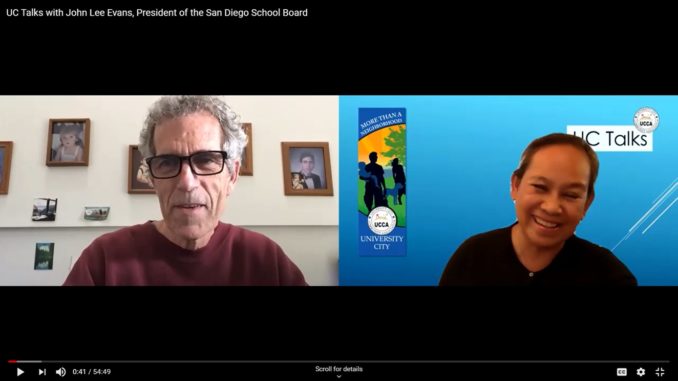 John Lee Evans, San Diego Unified School Board President, was the guest on UC Talks on June 20, 2020. Host Jemma Samala talks with him about the reopening of our local schools, what that will look like, and the many COVID-19 related challenges to be faced. Evans is one of the key organizers behind the neighborhood's ImagineUC 2020 project – new aquatic center at Standley Park, pavilion, and jogging path; as well as improvements to the Spreckels Elementary and Standley Middle school campuses on Governor Drive. Listen and you'll even find out to which area park he takes his dogs.
Jemma and Dr. Evans start out talking about the challenges of distance learning and the re-opening of schools. At approximately 38 minutes, they begin talking about Imagine UC 2020 and the aquatic center and other updates to the Standley Middle School, Spreckels Elementary, and Standley Park campus on Governor Drive.
---
---
UC Talks is a hyper-local podcast that features conversations, interviews, and news of University City. UC Talks also includes readings of the University City newsletter. It's managed by University City Community Association (UCCA) and made possible, in part, by a generous Community Enhancement Program grant from the County Board of Supervisors. Our podcast host is newsletter editor Jemma Samala.
No special software is needed to listen; just click on the link, adjust the volume on your device, and click the play button. 
To submit an idea for an upcoming UC Talks podcast, please use the 'contact us' link at https://www.universitycitynews.org/contact-us-or-volunteer-in-uc/