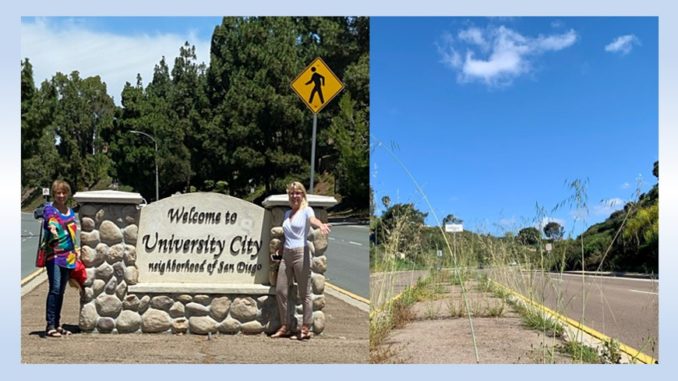 Print versions of the UCCA's September 2020 University City News will be available for pickup and delivery beginning Sunday, August 30. Single issue pickup will be available on Sunday afternoon at the Standley Recreation Center, the University Community Library, and the U-City Coin Wash (Laundromat) all located on Governor Drive. Home delivery will begin Sunday and Monday, August 30 and 31.
For those who can't wait, we provide a sneak peek at the cover story which this month features a report by Beautification Co-Chair and UCCF board member Merle Langston about realtor Nancy Beck's support of area street median clean efforts as well as the settlement status of the University City Community Foundation (UCCF) Pure Water lawsuit.
Based on a report by Merle Langston: We hope residents have noticed that several of our University City medians have been cleaned up; Genesee Avenue south of Governor Drive, Regents Road south of Governor Drive (that's the before picture on the right), and the medians on Governor Drive across from Standley Park. Appreciation goes out to Nancy Beck (pictured to the right of the welcome sign) from Century 21 Award Realty who partnered with Merle Langston (pictured above on left of welcome sign) of UCCA to undertake this one-time cleanup. UCCA has spearheaded other median cleanups in the past when the City failed to do so after citing a lack of funding.
Other University City establishments have also previously participated in UC median maintenance projects such as the UC MarketPlace, University Square, Our Mother of Confidence Church, The Irvine Company, the Angelucci Family Apartments, and the Chabad Synagogue. Carl's Jr. even went as far as to adopting the median across from them on Governor Drive.
Now, residents of the Villas at University Park have been presented with a great opportunity. As part of UCCF's 'Pure Water' lawsuit settlement, the medians south of Governor Drive will be completely renovated if the Villas HOA accepts responsibility for water and maintenance of the new landscaping. In addition, the remaining medians north of Governor Drive will also be renovated under the same terms.
The lawsuit settlement was a big win for University City as the median renovation project would bring approximately $1.3 million dollars in desperately needed improvements to University City. We are hopeful that residents will see the value of this proposed beautification project and look forward to the work beginning in late 2021.
---
Editor's note: Merle Langston can be reached through UCCA at UniversityCityNews@gmail.com. For more information about UCCF, the University City Community Foundation, visit https://uccfsd.org/